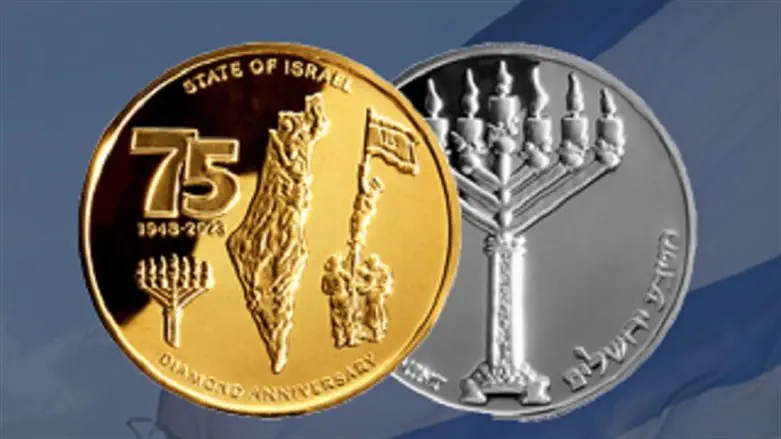 Celebrating 75 Years of Israeli
israelanniversarycoin
Israel declared independence in 1948, shortly after the tragic annihilation of 6 million innocent Jewish lives lost in the Holocaust. However, there has been a constant Jewish presence on this land for thousands of years, even before Islam or Christianity were founded. Over the years, Israel faced numerous wars against combined Arab armies, countless terrorist attacks, thousands of rockets fired from Gaza, Syria, & Lebanon, constant threats of obliteration from Iran, endless boycotts, & numerous attempts to cut the country in half. Surrounding Israel, are many different enemies who every single day are planning deadly attacks, with the goal of destroying Israel and wiping out the Jewish people.
Despite all of this, Israel is somehow ranked the 4th happiest country in the world (2023 World Happiness Report). I believe this is because the Israeli people value life & growth, while their enemies value death & destruction.
Israel is a global superpower in many fields, primarily medicine and technology. Israeli doctors are constantly making efforts to discover cures for cancer and many other illnesses. During the Covid-19 outbreak, Israel was a world leader in confronting and defeating the pandemic. Many countries were watching closely at how Israel handled the pandemic and followed its methods.
The BDS movement calls for the complete boycott of Israel. We should question: how can any logical person boycott a country that is striving to find a cure for cancer?
The history of Israel is bittersweet. Unfortunately, everyone in the country knows of someone who was killed in war or terror attack, whether it was an IDF soldier or regular civilian. Yom HaZikaron is a very solemn and sad day where the entire country comes to a complete halt during the siren to remember all the innocent lives that were lost. When a lone soldier is killed, thousands upon thousands of Israeli citizens from all over the country, with various religious backgrounds, join the funeral, most of them not even knowing the soldier, to show that this soldier was and will never be alone.
Remarkably, the day after Yom HaZikaron, is Yom HaAtzmaut, which is an extremely happy holiday where we celebrate the birth and accomplishments of Israel, which only took place because of the sacrifices made by our brothers and sisters: the heroic IDF soldiers, may their memories always be a blessing.
Today, the IDF is known as being one of the strongest armies in the world. There is tremendous worldwide respect for the IDF, Israeli Air Force, Mossad, & Shin Bet, who are continuously protecting all citizens in the country, and have the capabilities to travel anywhere in the world to rescue Jews in danger.
Today with rising antisemitism around the world, it's more important than ever for us to support Israel. On this Yom HaAtzmaut and every single day, I strongly encourage all Jewish communities to support, visit, embrace, and love Israel as much as we can. We should be proud of our one and only Jewish homeland and its rich, vibrant culture & people. We should always defend Israel on social media, college campuses, schools, in business, & in all fields.
I would like to conclude with a personal story. Years ago, my grandmother was sitting on a crowded bus in Ramat Gan. All of a sudden, she felt very sick and was about to faint. The bus driver immediately stopped the bus, asked all the other passengers to exit, and drove the bus directly to the hospital, saving my grandmother's life. After this happened, every year on Rosh Hashana, my grandmother would send a Shana Tova card to this bus driver, thanking him and wishing him and his family a sweet new year, and the driver would respond with a card of his own.
Israel is not just a country. It's an extended Jewish family. It's the eternal homeland of the Jewish people. It's the only democratic country in the Middle East. It's a safe haven for all Jews around the world that are facing antisemitism and persecution. And finally, it's a guarantee that the world will never face another Holocaust.
Chag HaAtzmaut Sameach to all!
Jacob Namdar heads the NH Property Group and wrote Arutz Sheva:"Since childhood, I have always been a very strong, anctive, and passionate supporter of Israel & Zionism. Today, with rising antisemitism around the world, I believe that our support for Israel is more important than ever before."