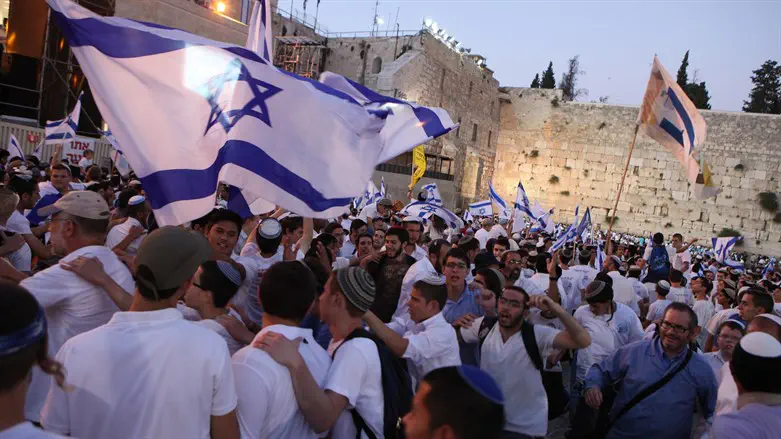 Israeli flags at the Western Wall in Jerusalem
Flash 90
The Central Bureau of Statistics (CBS) revealed Israel's population data Monday, ahead of the country's 75th Independence Day.
Israel's population is now 9,727,000, including 7,145,000 Jews (73.5% of the total), 2,048,000 Arabs (21.0%), and 534,000 others (5.5%).
Since Israel's previous Independence Day, Israel's population has grown by 216,000 people (a growth of 2.3%).
During this period, around 183,000 babies were born, approximately 79,0000 immigrants arrived, and 51,000 people passed away.
At the time of the state's establishment, Israel's population numbered 806,000 people. Today, Israel's population is twelve times greater than at the time of the state's establishment.
More than 3.3 million immigrants have made Aliyah to Israel, approximately 1.5 million (43.7%) of whom arrived since 1990. Additionally, approximately 149,000 immigrant citizens have moved to Israel.
Israel's population is expected to number 11.1 million people in 2030, 13.2 million in 2040, and 15.2 million people on Israel's 100th Independence Day (2048).