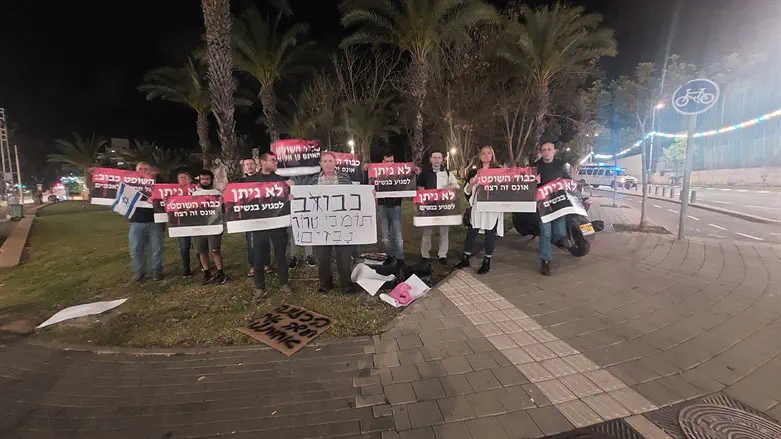 The protest
B'tsalmo
Dozens protested Thursday night outside the home of Khaled Kabub, a Supreme Court justice, after he declared that a rapist acted "without significant violence."
In the incident in question, an Arab raped a Jewish woman, but Kabub declared that the rapist had acted "without significant violence" and ordered that his release be considered.
The protest in front of Kabub's home was organized spontaneously, by the human rights organization B'tsalmo, and it was carried out thanks to Yuval Dirlik, who heads the organization's policy department and its government connections, and who found Kabub's address and confirmed the information by arriving at the site himself several hours prior to the protest. Dirlik requested a glass of water, and Kabub gave it to him.
Attending the protest were haredim, secular Israelis, Arabs, elderly, and children. MK Almog Cohen (Otzma Yehudit) also attended the protest, stating that no one may harm women, and demanding an investigation into Kabub's ruling.
The protesters arrived with signs reading, "Honorable Judge: Rape is murder," "Honorable Judge: Rape IS violence," and, "We will not allow women to be hurt," all of them protesting Kabub's inflammatory statement.
A physical altercation broke out between local Arabs and one of the protesters, and police arrived and separated them.
B'tsalmo CEO Shai Glick said, "Justice Khaled Kabub is not worthy of discussing any case, and certainly not cases of sexual abuse."
"It is sad and infuriating that the Israel Women's Network did not joint the protest against the judge. This is the true 'Handmaid's Tale.'" He added that he did not notify Emunah, the Religious Zionist Women's Organization who, he realized, would have joined the protest.
Dirlik said, "Justice is not selective, and rape is not subjective. Silence in the face of this injustice is as loud as the victim's scream. Rape without violence is like a hurricane without wind, and like an earthquake without the ground moving, like a tsunami without waves."
Protesters hold signs outside Khaled Kabub's home
B'tsalmo
"Honorable Judge: Rape is murder"
B'tsalmo
Protesters hold signs reading, "Khaled Kabub encourages rape," and, "Honorable Judge: Rape IS violent"
B'tsalmo