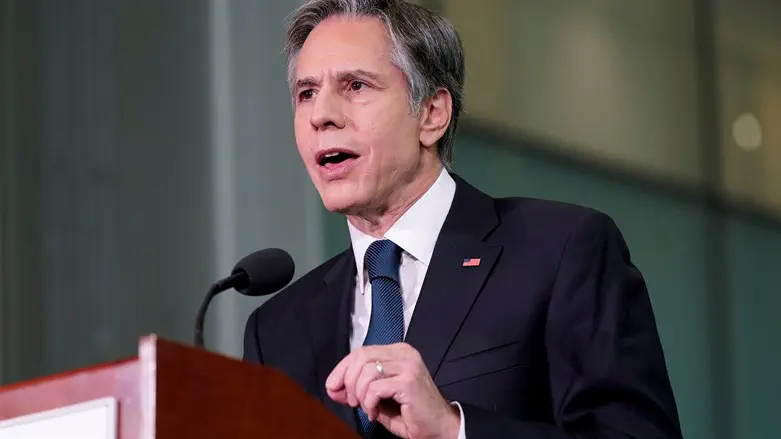 Antony Blinken
Reuters
US Secretary of State Antony Blinken, during his recent visit to Niger, urged the country's president to move toward normalizing relations with Israel, two US and Israeli officials told Axios' Barak Ravid on Wednesday.
Blinken and President Mohamed Bazoum's discussion on Israel, which was not previously disclosed, is another sign that the Biden administration is working behind the scenes to include more Arab and Muslim-majority countries in the Abraham Accords.
Blinken's trip to Niger, which took place in mid-March, made him the first US Secretary of State to ever visit the West African Muslim-majority country, which is emerging as a key US security partner in the Sahel.
Two weeks after his visit to Niger, Blinken spoke on the phone with his Israeli counterpart Eli Cohen and briefed him on his talks, which also included Niger Foreign Minister Hassoumi Massaoudou, the Israeli and US officials said.
Israeli officials said Cohen proposed inviting Niger to participate in the Negev Forum, which includes the US, Israel, the UAE, Bahrain, Morocco and Egypt.
Israeli officials said that the leadership in Niger was willing to move forward with warming ties with Israel and even reestablishing diplomatic relations, but they want to get some kind of deliverables from the Biden administration.
The Niger Embassy in Washington did not respond to a request for comment. The State Department declined to comment.
Israel had diplomatic relations with Niger in the 1960s but they broke down in 1973. The two countries renewed ties in 1996 after the Oslo Accords between Israel and the Palestine Liberation Organization, but Niger cut ties again in 2002 during the second intifada.
Several Arab countries normalized ties with Israel in 2020 as part of the Abraham Accords brokered by the Trump administration.
Last month it was reported that Minister Cohen, along with Foreign Ministry officials, are expending great efforts to bring about accords with additional countries, including Niger. Other countries mentioned in the report were Mauritania, Somalia and Indonesia.