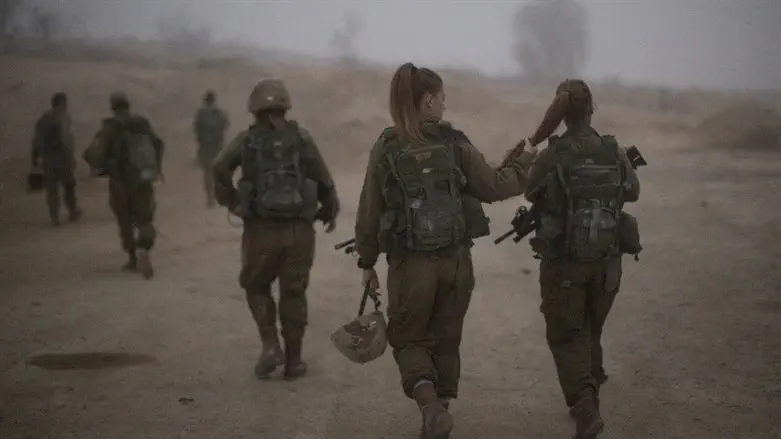 female soldiers (illustration)
Hadas Porush: Flash 90
The State Attorney's Office today (Monday) submitted a response to the Supreme Court on behalf of the IDF on the petitions over the service of female soldiers in military combat units.
In its response, the State Attorney's Office detailed the steps the IDF has taken to allow women to serve in combat units from which they were previously barred. It stated that the pilot program to enlist female soldiers in the Israel Air Force's elite Unit 669, a helicopter search and rescue unit, would continue, but a program to allow women to serve as drivers in an infantry brigade would be delayed.
The IDF stated that 90% of the positions in the military are open to women, and they are widely assigned to significant technological, intelligence and operational positions. A significant portion of the combat positions are open to women - and they make up about a fifth of the military's combat forces.
Shovrot Shivyon (Breaking Equality) chairwoman Naama Zarbiv praised the IDF's announcement. "It has been realized in Israel, alongside the persistent struggle of the progressive women's organizations, it has been proven once again that there are places where women cannot serve. Even in the army they understand that their role is to win the battle and not the battle of consciousness about the destiny and position of women. Rights and equality yes, but under no circumstances can this come at the expense of the army's main goal, which is to win the battle."
Tammy Halamish Eisenmann, executive director of Aluma, an organization which assists religious female soldiers, said in response to the IDF's position: "For years we have been saying that it is important that each and every person can realize their potential without harming their health, personal identity and religious lifestyles. From the State's response to the Supreme Court we can learn that the IDF has made it a goal to integrate women and advance that agenda. As those involved in the integration of religious women in the IDF, we are witness to the fact that the army's efforts are bearing fruit. Every year the number of religious girls who choose significant military service increases and with it the basket of solutions and service routes that the army makes available to religious girls."