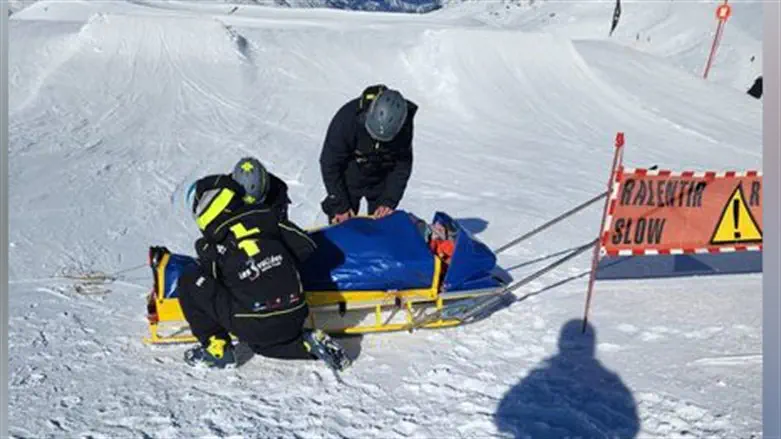 Scene of the accident
Spokesperson
Dr. Ariel Lipschuetz, 39, an anesthesiologist from Hadassah Hospital Mount Scopus, is very familiar with the snowy mountains in Israel and around the world and has often served as a volunteer at various ski resorts, as a rescue doctor for those who have encountered falls and injuries that require immediate assistance.
When Dr. Lipschuetz decided to fly with his friends to the Val Thorens ski resort in a picturesque town in the French Alps, he did not think that the experience would end in a disaster that would almost leave him paralyzed for the rest of his life.
"I flew with a friend to a ski resort for a short vacation," says Dr. Lipschuetz. It was a friendly site and not known to be particularly challenging. Families with children come there and surfing the slopes is safe. The start of the vacation was amazing and we enjoyed every minute. I never imagined, even for a second, how this vacation would end.
On one of the days that we skied, we passed a not-very-high hill, and for a reason, I do not know, I abruptly flew to a great height in the air and landed on my back. I immediately realized that I was seriously injured," he says.
"The pain was extreme, I could barely speak or move, and the feeling was total helplessness, lying there without even being able to call for help or shout."
"A few minutes later, a rescue team was called. The next few hours were awful. I was taken off the mountain on a rescue mattress with an emergency team; the movements and potholes paralyzed me with pain.
During the ambulance drive, I started to sweat and had trouble breathing; all signs indicated that my body was in shock. I am a doctor; I knew the signs and knew that whoever was treating me could only note them when using monitoring equipment, which was not present in the ambulance. While experiencing the severe symptoms, I tried to explain to the medical staff who accompanied me that my condition was not good and that my body was in shock, but they did not understand English. In despair, I realized that all my experience and knowledge did not help in those moments.
When I arrived at the local hospital, I realized my condition was awful and I still couldn't move. The back injury was significant.
It was clear to me that this fall could change my life. So the first thing I did, even before I called my wife, was to call Dr. Josh Schroeder, Director of the Back Unit at Hadassah Medical Center, with whom I work together at Hadassah Mount Scopus; I am the anesthesiologist".
Coincidentally, Dr. Schroeder was only about 26 kilometers away from the injured Dr. Lipschuetz in La Tossari, where he was skiing with his family.
"Ariel called me, and I immediately understood his distress and his difficult situation," says Dr. Schroeder. "The day before, my 12-year-old daughter injured her ankle while skiing. I took her to the local clinic for an X-ray. There I saw how old and not advanced is the medical equipment, so far from what we have in Israel, in Hadassah."
"I asked the medical team that treated Ariel to give me the scans they had done. I sat down to examine them in the midst of my vacation, knowing that every minute counts. I saw that he had a fractured back vertebrae that could cause him to become paralyzed. I realized that he had to undergo surgery in Israel."