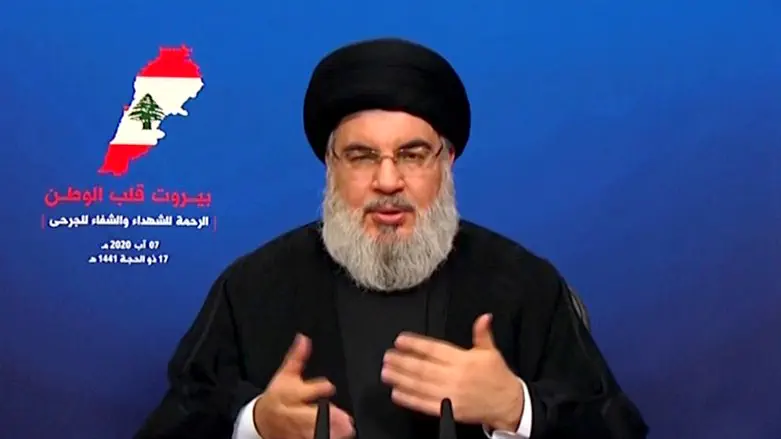 Nasrallah
Reuters
Hezbollah Secretary General Hassan Nasrallah spoke this afternoon (Friday) on the occasion of "Jerusalem Day" and referred for the first time to the escalation on the northern border last week.
According to Nasrallah, the Israeli attack in response to the heaviest rocket barrage from Lebanon since the Second Lebanon War was "ridiculous", and included, among other things, damage to banana plantations.
Nasrallah claimed that Prime Minister Netanyahu is "running away from responsibility" and that he "lied to his people" when he said that Israel attacked Hezbollah targets in southern Lebanon.
In his speech, Nasrallah also referred to regional developments: "There are major developments on the international level and among the Zionist entity that serve the resistance in a positive way."
In the context of the USA, he accused: "The USA is running away from responsibility just like Netanyahu is running away from responsibility and throwing it on Lapid. In the USA, they throw the responsibility on Trump."
Nasrallah also referred to the internal rift in Israel due to the judicial reform, "There is a sharp decline in the fighting spirit and the willingness to sacrifice for the country. This reform brought out all the religious, political issues and problems. This is a war by Netanyahu and his extremist friends to turn Israel into a dictatorship, even though their democracy is questionable."
Nasrallah addressed the Muslims and Christians in Israel: "Solidarity on International Jerusalem Day is a message of solidarity and support for the Palestinian people, for the Muslims in Al-Aqsa Mosque and the Christians in the Church of the Holy Sepulcher - you are not alone."
A senior political official from Israel commented: "This is more fake news from Nasrallah's bunker."