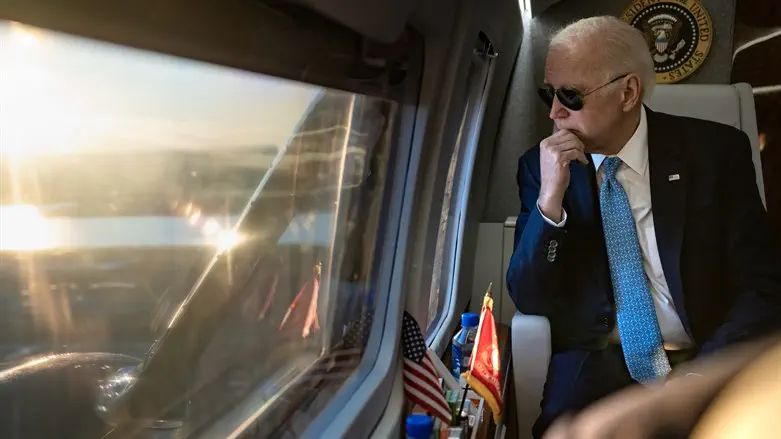 US President Joe Biden
Official White House Photo by Adam Schultz
President Joe Biden and First Lady Jill Biden released a Passover message to the Jewish community on Wednesday, the start of the holiday.
"Tonight, Jewish communities in the United States and around the world will gather around the Seder table to celebrate Passover," Biden said in a social media post.
"To all those observing this Festival of Freedom, Jill and I wish you and your loved ones a Happy Passover. Chag Sameach!"
Writing in a CNN op-ed on Wednesday, Biden noted that the story of Passover, the "miraculous story of the Jewish people's exodus from slavery in Egypt to freedom," is a "timeless, powerful story of faith, hope and redemption that has inspired oppressed people everywhere for generations."
According to Biden, Passover is not simply a "recounting of the past" but a warning about the current rise in antisemitism.
"As Jews read from the Haggadah about how evil in every generation has tried to destroy them, antisemitism is rising to record levels today," he said.
Noting that FBI data shows that over half of religious-based hate crimes in the US target Jews, and are at levels not seen in over four decades, Biden described an "evil across society."
"Terrorist attacks on synagogues. Bricks thrown through windows of Jewish businesses. Antisemitic flyers left on the front lawns of Jewish homes. Swastikas on cars and cemeteries. Antisemitic graffiti and acts in elementary, middle and high schools. Jewish students harassed on college campuses. Jews wearing religious attire beaten and shot on streets," he said. "Failure to call out hate is complicity…And we will not be silent."
He denounced the "flagrant embraces of extremism in public life."
"All of it – These acts are unconscionable and despicable. They carry in them terrifying echoes of the worst chapters in human history. And they're not only a strike against Jews, they're also a threat to other minority communities and a stain on the soul of our nation," Biden said.
"To the Jewish community, I want you to know that I see your fear, your hurt and your concern that this venom is being normalized… Rest assured that I am committed to the safety of the Jewish people. I stand with you. America stands with you. Under my presidency, we continue to condemn antisemitism at every turn. Failure to call out hate is complicity. Silence is complicity. And we will not be silent."
The President added: "As the Passover holiday teaches, our work starts with the sacred duty to remember. Last year, I visited Israel once again to reaffirm America's unshakeable commitment to its security. I returned to Yad Vashem to honor the 6 million murdered Jews, to keep alive the truth and horror of the Holocaust and to remind us all of our shared responsibility to make real the promise of 'Never Again.'"
Biden said it was "a message that Jill and I have continued, along with Vice President Kamala Harris and Second Gentleman Douglas Emhoff, by bringing Holocaust survivors to the White House and to the State of the Union – so the entire nation bears witness."
He urged Americans to speak out against antisemitism.
"But Passover teaches that remembering is not enough; we must also speak out. The word 'Haggadah' means 'telling' – and it reminds us of our moral obligation to state clearly and forcefully that this scourge of antisemitism must stop," Biden said.