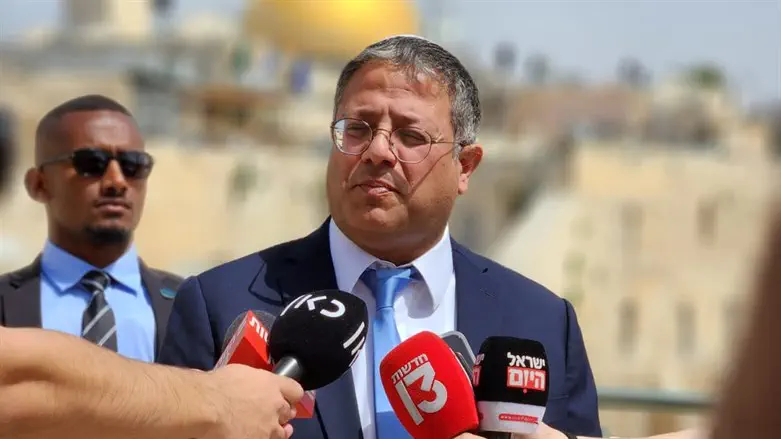 Itamar Ben-Gvir
צילום: חופשי
Israeli National Security Minister Itamar Ben-Gvir (Otzma Yehudit) called Wednesday morning for the security cabinet to convene immediately, following a string of rocket attacks from the Gaza Strip overnight, a terrorist shooting attack near Hebron that left an IDF soldier wounded, Arab riots on the Temple Mount, and a stabbing attack in central Israel Tuesday during which two IDF soldiers were wounded.
"This morning I requested that the security cabinet be convened following last night's events," Ben-Gvir said. "This government, which I am a member of, needs to respond with force to the launching of rockets from Gaza."
"Hamas rockets require more of a response than bombing sand dunes and unmanned positions. The time has come for heads to roll in Gaza. We cannot compromise on the policy of responding seriously to every rocket attack."
A total of 18 rockets were fired from the Hamas-ruled Gaza Strip towards Israel overnight and Wednesday morning, the IDF said.
Most of the rockets either landed in open fields or were intercepted by the Iron Dome missile defense system.
In response, the IDF bombed a Hamas terrorist training facility in northern Gaza, while IDF tanks opened fire on Hamas positions.
One rocket struck a Strauss factory in Sderot, damaging the building but causing no casualties.
No injuries were reported in the rocket attacks, though one man in his 30s was lightly injured when he tripped while running to a shelter. A woman was also treated for shock.