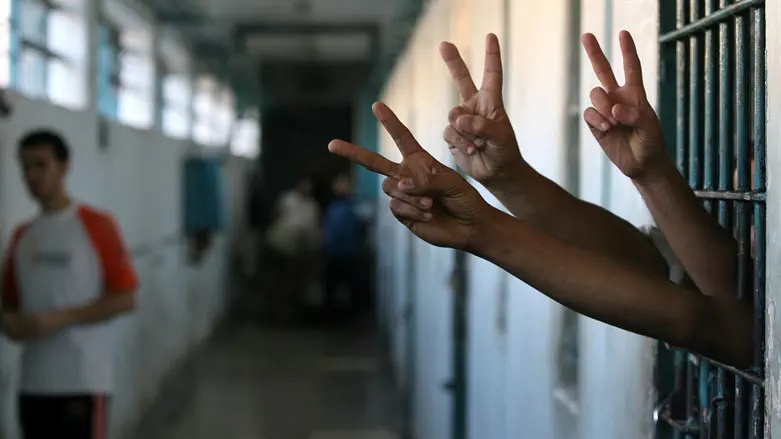 Terrorist prisoners (illustration)
Flash 90
A watchdog organization on Sunday released undercover hidden camera footage showing senior Palestinian Authority officials referring families of terrorists who murdered Jews to HaMoked, an Israeli organization, for legal assistance.
The undercover footage was released by the group Ad Kan, which works to expose far-left organizations which work against the IDF and the State of Israel.
HaMoked's budget is based primarily on funding from European governments and the New Israel Fund.
Ad Kan also revealed Sunday that families of terrorists and terrorists themselves claim that when they decide to carry out an attack, they feel supported by the assistance of HaMoked, which allows them to make the decision to commit a terrorist attack.
The report showed that every year, thousands of Palestinian Arabs turn to HaMoked and receive free legal assistance and representation from the organization. The vast majority of applications come from terrorists, terrorist suspects and their families. HaMoked doesn't differentiate between the terrorists to whom it gives free legal counsel even if the applicant is a mass murderer of Israeli children.
In an in-depth audit conducted into the activities of HaMoked in 2017, it was determined that the organization helps Palestinian Arabs only, and therefore does not meet its stated objectives (which enable it to be classified as a charity) - assistance to every person in need. As a result, the objective and mission of the organization were changed to include aid to Palestinian Arabs only.
The absolute majority of funding for HaMoked's activities comes from abroad, from foreign funds and political entities that transfer millions of dollars and Euros a year to HaMoked. Between the years 2007 and 2018, HaMoked for the Protection of Individuals received a total of 20 million dollars, mostly from foreign entities and governments. Among the countries funding HaMoked between the years 2007 - 2018 are Norway, Spain, Germany, France, Netherlands, Belgium, Great Britain, Finland, Switzerland, the European Union and United Nations. In addition, the New Israel Fund, and the Ford Foundation donated more than a million dollars to HaMoked during those years.
Some of the funds are intended for activities to repeal Israeli laws in the field of security, which constitutes blatant interference by foreign countries in the management of the State of Israel and its security policies. The Center for the Protection of the Individual maintains close cooperation with Palestinian organizations, including organizations such as Achmir and Al-Haq, which are affiliated with the terrorist organization the Popular Front. Many of the members of these organizations are convicted terrorists and according to Israeli security forces and the courts, are also involved in terrorism at the same time as their activities in the organizations. Some of HaMoked's employees and members publish statements that may amount to incitement or support for terrorists, in addition to their support for boycotts and sanctions against Israel.
For example: Undercover agents from Ad Kan met with the family of Ashraf Nealwa, the terrorist who carried out a shooting attack in Barkan in October 2018, killing at point blank Kim Levengrond-Yehezkel, 29, mother of one from Rosh Ha'ayin, and Ziv Hajbi, 35, father of three from Rishon Lezion, both his co-workers.. HaMoked represented the family during the demolition of the family's home, even though his mother, brother and father were arrested on suspicion that they knew of his intention to carry out an attack and did not prevent it. The mother, Wapa Nealwa, was convicted in May 2019 of failing to prevent a terrorist attack. HaMoked even moved in to help the family obtain permission to visit the father while he was detained by Israeli security forces and also tried to obtain a halt order to prevent the demolition of the family home.
Member of Knesset and for Director of Police Investigations, Moshe Saada said "The dramatic investigation by Ad Kan provides conclusive evidence that entities under the guise of treating human rights, take advantage of their position in Israel to provide protection and relief to terrorists and thus aid terrorism. To put an end to this phenomenon, I submitted a bill that would prevent legal aid to terrorists and the Palestinian Authority."
Minister of Heritage Amichai Eliyahu said "Imagine for a moment a father or mother who lost their daughter or son in a terrorist attack, the most precious thing to them. Now imagine these parents standing in court in front of the terrorist who murdered their loved ones while being represented by an Israeli organization.
Unfortunately, this is a reality.
Ad Kan's expose which aired on Channel 14 is shocking and worrying."
Member of Knesset and head of the Lobby Against anti-Semitism and Delegitimization of the State of Israel, Ariel Kalner said "It is ridiculous how a small, extremist and anti-Israel organization which is funded by foreign governments causes the security and legal systems to change policies and undermine security. Ad Kan's exposure on HaMoked shows how important it is to act against foreign political interference. The lobby for the fight against delegitimization under my leadership will act on the matter with all the tools at our disposal."
Gilad Ach, the CEO and founder of Ad Kan, whose organization exposed HaMoked, said that: "Again, the agents of "Ad Kan" put themselves at risk in order to disclose to the Israeli public what our enemies are trying to hide. In this case, "HaMoked for the Protection of the Individual" was uncovered, for their immoral and legal counsel that helps the killers of Jews and brings about the next attack. All of this is financed by foreign European governments and entities. This type of outside illegal funding is illegal in most countries, and it is clear to all of us how much damage it causes to the State of Israel. We demand from the Israeli government to see the pain of the bereaved families and stop this madness."