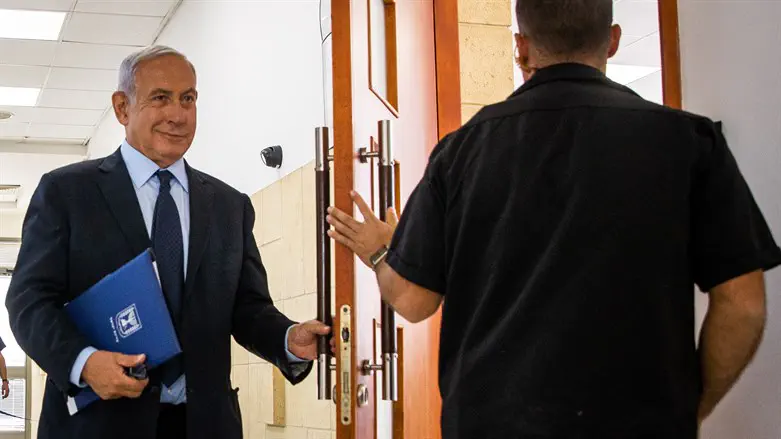 Netanyahu in court
Oron Ben Hakun/Flash 90
Attorneys for Prime Minister Benjamin Netanyahu, Michael Rabilo and Roi Schechter, responded Sunday to the petition by the Movement for Quality Government in Israel in which the organization seeks to have Prime Minister Netanyahu held in contempt of court for allegedly violating his conflict of interest agreement by directly involving himself in the efforts to reach a negotiated compromise on the judicial reform issue.
"The citizens of Israel elected only a few months ago, with a clear majority, the parties that make up the current coalition. All the parties that make up the current coalition clearly announced during the election process that they want MK Benjamin Netanyahu to head the government," the lawyers wrote.
They further stated that "the ruling did not prohibit the Prime Minister from discussing the Judicial Selection Committee and the Prime Minister himself announced and he repeats and announces again explicitly that he agrees that no new judge selected by the Judicial Selection Committee who will be involved in his case."
According to them, "Every sane person understands that during a national crisis that has internal and external consequences for the State of Israel, the Prime Minister is obligated to act in the interest of the people to try to bring about as broad national consensus as possible, to prevent violence and to ensure law and order and the day-to-day functioning of the state, its security and economic stability, and the maintaining of the country's foreign relations."
"With all due respect to any conflict of interest arrangement, when there is an issue that the president of the country announces that he believes may lead to a civil war; when the president of the United States and world leaders express a position on an issue and discuss it with the prime minister; when the issue affects the security of the country and its economy, the prime minister must, by virtue of his position, manage the issue and be involved in it, and this has nothing to do with his personal affairs. This is the meaning of the position of the Prime Minister, and this is the meaning of the election of the citizens of the State of Israel," the lawyers concluded.