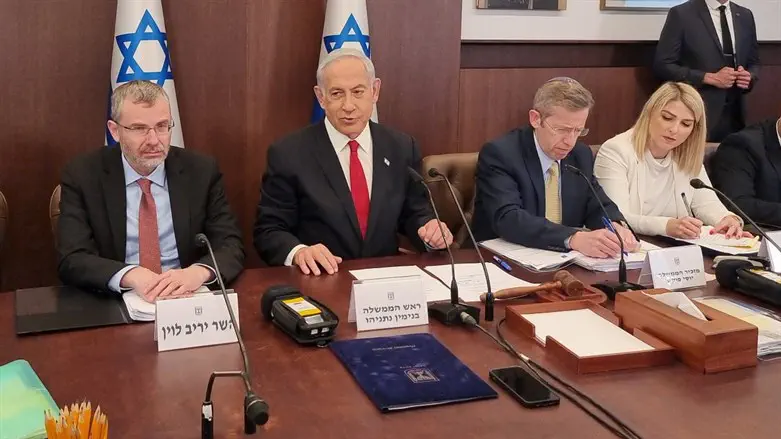 Netanyahu at Cabinet meeting
INN
Prime Minister Benjamin Netanyahu said at the weekly Cabinet meeting Sunday that he is optimistic on the possibility of reaching an agreement on the government's planned judicial reforms.
"We are currently in the process of negotiations with the aim of reaching a broad agreement. I would like to remind you that before the elections, many of the leaders of the current opposition supported fundamental changes in the judicial system. Therefore, there is a basis for agreements that can be reached with good will and genuine negotiations," Netanyahu said at the beginning of the Cabinet meeting.
Defense Minister Yoav Gallant entered the cabinet meeting late after Netanyahu made his statement and the media left meeting room. Last week. Netanyahu announced that he would fire Gallant from his position, but he has yet to send an official letter of dismissal.
A number of government officials have attempted to convince Netanyahu to allow Gallant to remain in his position. Netanyahu's office insists that Gallant apologize for speaking against the Prime Minister's position on the freezing of the judicial reform legislation while the Prime Minister was on a visit to London.
The Defense Minister's Office has said that Gallant is willing to apologize for the timing of his remarks, but not the content.
During the meeting, Netanyahu also addressed the security situation. "We act against terrorism by all means, and we do it in two ways: First, we act and fight against the terrorists themselves. In recent months, our forces have killed dozens of terrorists and arrested hundreds of others. I fully support the Israel Police for thwarting the terrorist on the Temple Mount this weekend. We all pray for the recovery of the IDF soldiers who were injured in last night's ramming attack in Gush Etzion."
Netanyahu also alluded to recent airstrikes in Syria. "We exact a heavy price from the regimes that support terrorism outside of Israel's borders. I suggest to our enemies not to make a mistake. The internal debate in Israel does not harm and will not harm our determination, strength and ability to act against our enemies on all fronts, wherever and whenever necessary."