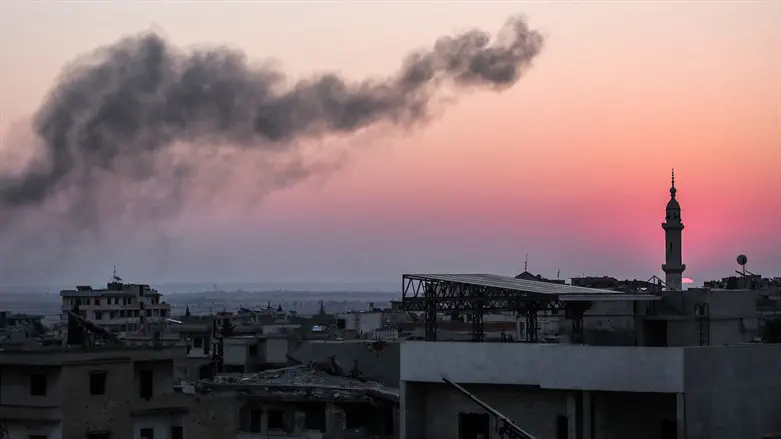 Airstrikes in Syria (archive)
Ali Syria/Flash90
Iran claimed this morning (Sunday) that a second member of its Islamic Revolutionary Guard Corps (IRGC) has died following an alleged Israeli airstrike in Syria late Friday morning.
"Meqdad Meqdani was wounded during the Zionist attack on Friday morning and was martyred," the Iranian Mehr news agency reported.
Iran on Friday claimed that another IRGC member had been killed in the alleged Israeli airstrike. "The Islamic Revolutionary Guards Corps announces the martyrdom of guardsman Milad Haydari, one of the IRGC's military advisers and officers, in the criminal attack of the Zionist regime on the outskirts of Damascus at dawn today," the IRGC stated,
Syria claimed this morning that five of its military personnel were injured in an another alleged Israeli airstrike in the Homs region overnight Saturday.
The alleged strikes targeted the T4 air base, which is located west of the ancient city of Palmyra, and al Dabaa airport, which is near close to the Lebanese border where the Hezbollah terrorist organization is entrenched.
Both Iranian and Hezbollah personnel are stationed at the airports which were targeted.
A Syrian military official vowed that Syria would respond to the strikes. "The repeated attacks testify to Israel's weakness and the inability of the traitorous army to confront and descend on the territory. This will not pass in silence."