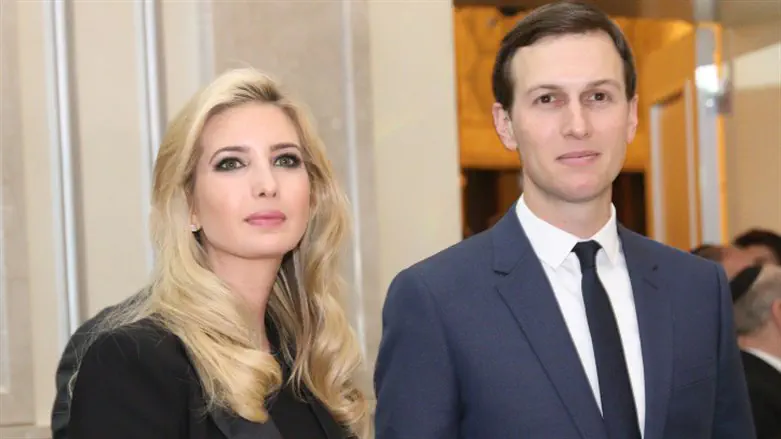 Jared Kushner and Ivanka Trump
Yossi Zamir/Flash 90
Former US President Donald Trump's daughter, Ivanka, and his son-in-law, Jared Kushner, broke their silence on Friday following Trump's indictment in relation to hush money he allegedly paid to adult film actress Stormy Daniels.
In a statement posted to social media, Ivanka Trump said, "I love my father, and I love my country."
"Today, I am pained for both. I appreciate the voices across the political spectrum expressing support and concern," she added.
Kushner, who served as a senior advisor to Trump during his time in President, commented on the indictment at an investment summit in Miami.
"As an American, it's very troubling to me to see the leader of the opposition party be indicted, and I think that that shows obviously the fear that the Democrats have of Trump and the political strength that he has," he said.
"It's been hard to watch the opponents of him politically continue to break every norm over the last years to try to get him," Kushner said during the opening of a talk focused on the Abraham Accords. Kushner linked the indictment to accusations against Trump of colluding with Russia, his impeachments, and law enforcement raids aimed at uncovering classified documents on his property," added Kushner.
"I've been by him in a lot of these instances and it's only made him stronger and his resolve to take on big challenges to fight for change, to fight for the American people has only gotten stronger," Kushner said.
On Thursday, a Manhattan grand jury voted to indict Trump on criminal charges for his role in organizing hush money payments made to Daniels during his 2016 campaign.
Trump has repeatedly dismissed the investigation as a witch hunt and previously called on supporters to protest his arrest.
Former US Vice President Mike Pence called the decision to indict Trump an "outrage."
Speaking on CNN, Pence said, "The unprecedented indictment of a former president of the United States on a campaign finance issue is an outrage. And it appears to millions of Americans to be nothing more than a political prosecution that's driven by a prosecutor who literally ran for office on a pledge to indict the former president."
Asked whether Trump should be disqualified from being the 2024 presidential nominee or drop out of the race, Pence said, "It's a long way to that decision."
"I promise to answer that question if that approaches," added Pence, who stated he did not want to talk about "hypotheticals."