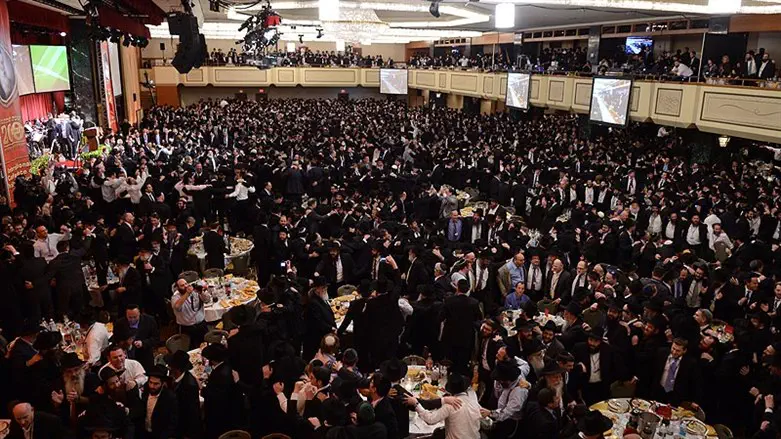 Dancing at Chabad Kinus'
Baruch Azagvai
A psalm of Peace
Sung by Sruli Cunin age 12 of Malibu CA

It has long been a tradition among the hassidim to recite the Psalm chapter that corresponds to the Rebbe's birthday each year. Saturday night, following Shabbat April 1st, which is the eleventh day of the Hebrew month of Nisan, will mark the 121st birthday of the Lubavitcher Rebbe Zts"l.
Hence, beginning on Sunday, April 2, Chabad and other Jews of all ages will begin the daily recital of Psalm 122,
Enjoy this sing along with Sruli Cunin, 12 year old Shliach in Malibu CA.
About the Psalm:

The Song of Ascents Psalm 122, composed by King David, is a psalm of joy and celebration, reflecting the profound desire of the Jewish people in the era of king David, to worship in the house of the Hashem in the temple in that would be built by his son king Solomon, in Jerusalem.
It is also a hymn of hope and prophecy that looks towards the Messianic future period when the tribes of Israel will rise to Jerusalem to give praises to the name of the Hashem, and when Jerusalem will be an example for the whole world of what peace and tranquility looks like.
The Psalm speaks of the built-up Jerusalem as a city that was joined together within itself, a symbol of the unity and strength of the Jewish people. It speaks of the ascension of Israel's tribes, referred to as: "the tribes of Hashem", to praise the name of Hashem. It speaks of the Davidic courts of justice, indicating that the king envisioned a future period when the courts in Israel would adjudicate properly, informed by the precepts of the Torah.
It is vital to note, that the Torah ruled world that King David talked of, was one that while maintaining loyal to the principles of Torah, it is in a way that promotes peace amongst all peoples. May we merit true peace in our immediate times.
At the end of the video, there is a recording of the 70th birthday of the Rebbe in which he participated.
Sent by virtual assistant Ms.Ivy Alog to Arutz Sheva. Writeup by Rabbi Levi Cunin, Malibu.