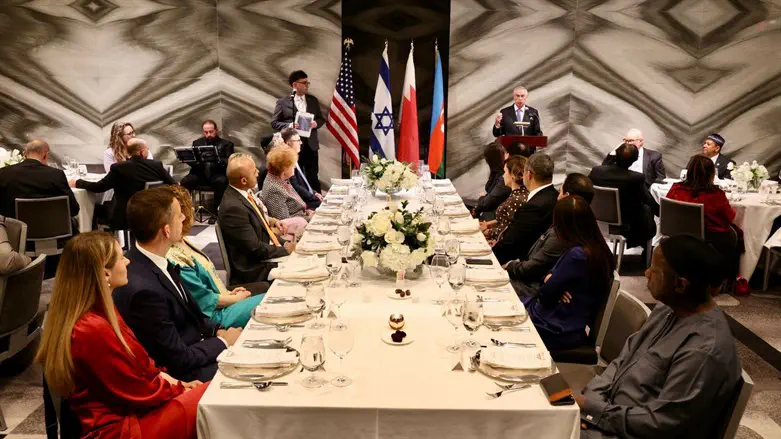 The joint event
Shmulik Almany, Embassy of Israel
The Ambassadors of Azerbaijan, Bahrain, and Israel hosted a joint Iftar celebration on Wednesday at the Watergate Hotel in Washington, DC.
Among those present at the event were officials from the US administration, US lawmakers, diplomats, members of the media, and civil society leaders. Iftar is the nightly meal eaten by Muslims after sunset during the month of Ramadan to break their fast.
Each Ambassador offered remarks marking the occasion and emphasizing the deepening ties fostered by the three countries.
Azerbaijan's Ambassador to the United States, Khazar Ibrahim, said: "Ramadan is a celebration of human spirit as we advance our deeply rooted interfaith bonds. We cherish inclusivity in our diversity. May Allah bring peace, prosperity, and lasting friendship."
In his remarks, Bahrain's Ambassador to the United States, Shaikh Abdulla Bin Rashid Al Khalifa, said: "Like Yom Kippur and Easter, Ramadan is a time of reflection and forgiveness. Fasting affords us the opportunity to focus on the spiritual relationship with the Almighty. And, in this ceremony of Iftar, we count our blessings and give thanks to Allah for what has been bestowed upon us."
Israel's Ambassador to the United States, Michael Herzog, said: "This unprecedented event is not only the fulfillment of a blessed tradition but also about building interfaith, inter-communal and inter-regional bridges. The month of Ramadan offers an opportunity to envision a brighter future together. I'm happy to celebrate tonight with our dear friends." As children of Abraham, the people of Azerbaijan, Bahrain, and Israel are bound by close friendship. This year's Iftar celebration highlighted the deepening cooperation among the three countries, which includes burgeoning regional and interfaith initiatives. The bright future that lies ahead for Azerbaijan, Bahrain, and Israel rests on cross-regional cooperation that addresses both our shared challenges and opportunities.