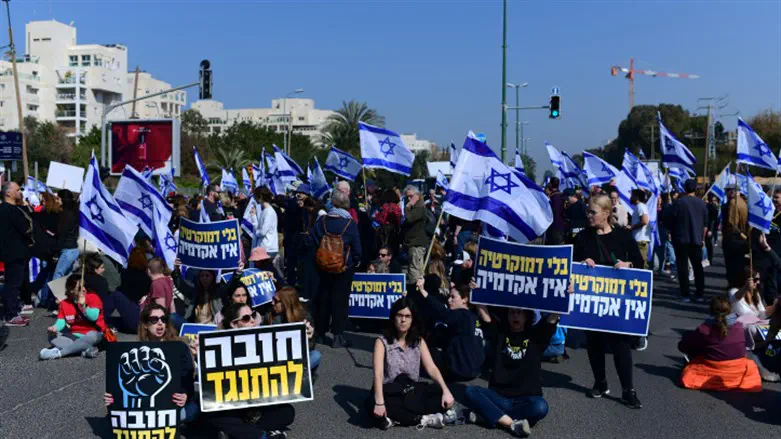 Anti-judicial reform protesters shut down Tel Aviv
Tomer Neuberg/FLASH90
The European Jewish Congress (EJC) called on the Israeli government to restore calm by suspending judicial reform and opening dialogue with the opposition.
The EJC expressed "deep concern at the latest developments in Israel" and urged "all sections of Israeli society to restore calm and dialogue," in a statement released on Monday.
As the Jewish umbrella organization representing more than 40 European countries, the ECJ called upon the government of Israel to "immediately suspend" proposed judicial reform legislation. It also committed itself "to the security and prosperity of the Jewish state based upon the values enshrined in the Declaration of Independence"
"The Jewish State is dear to all our hearts, as is the eternal unity of the Jewish People. It pains us all to witness such division, which can only provide succour to the enemies of Israel and the Jewish People," the AJC said.
The representative body called for an immediate return to dialogue as protests across Israel continued to occur, with tens of thousands of protesters and counter-protesters taking to the streets.
"It is our duty and responsibility to request from all our brothers and sisters, of whatever political hue, to stop the division now and return to dialogue before it is too late," they said.
On Monday, Prime Minister Benjamin Netanyahu and National Security Minister Itamar Ben-Gvir agreed to postpone judicial reform legislation until the Knesset's summer session. The freeze will allow for negotiations on the reforms, the Otzma Yehudit party announced.