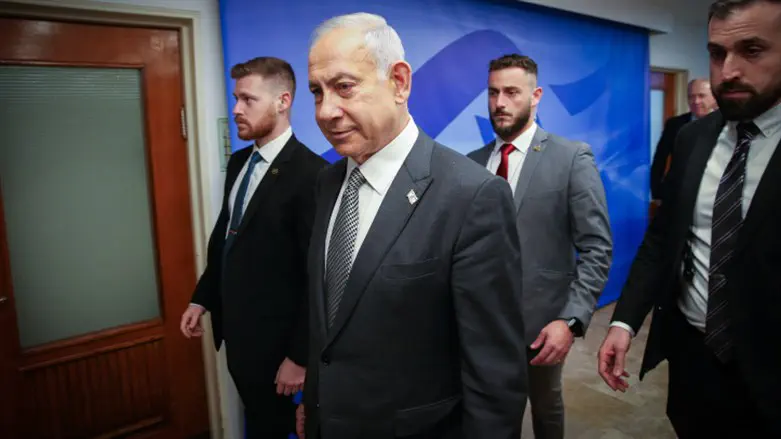 Benjamin Netanyahu, February 12th, 2023
AMIT SHABI/POOL
Israeli Prime Minister Benjamin Netanyahu has decided to freeze the government's judicial reform plan, Channel 12 reported Monday morning.
Netanyahu is slated to make a public address later Monday morning, and is reportedly planning to announce a pause in the legislation of the judicial reform bills. The duration of the pause is unclear.
According to the report, Netanyahu will meet with the leaders of the Coalition factions ahead of his address, updating them on his decision and providing details regarding the future of the judicial overhaul.
Netanyahu held an emergency meeting on the judicial overhaul plan after mass demonstrations broke out across the country, following the dismissal of Defense Minister Yoav Gallant (Likud).
President Isaac Herzog called on the government Monday to halt the judicial reform plan, saying: "I appeal to the leaders of all Knesset factions, Coalition and Opposition alike, to place this country's citizens above all else and to act with courage and responsibility without further delay. Wake up now! This is not a political moment; this is a moment for leadership and responsibility."
While Justice Minister Yariv Levin, Constitution, Law and Justice Committee chairman Simcha Rothman, (Religious Zionist Party) and the Otzma Yehudit party called to move forward with the overhaul – with a vote in the Knesset slated for Monday – multiple Likud ministers and MKs, including Culture Minister Miki Zohar and Economy Minister Nir Barkat, pressed Netanyahu to freeze the reform.
Haredi lawmakers from the Shas and United Torah Judaism parties told Netanyahu they will support a pause in the legislation.