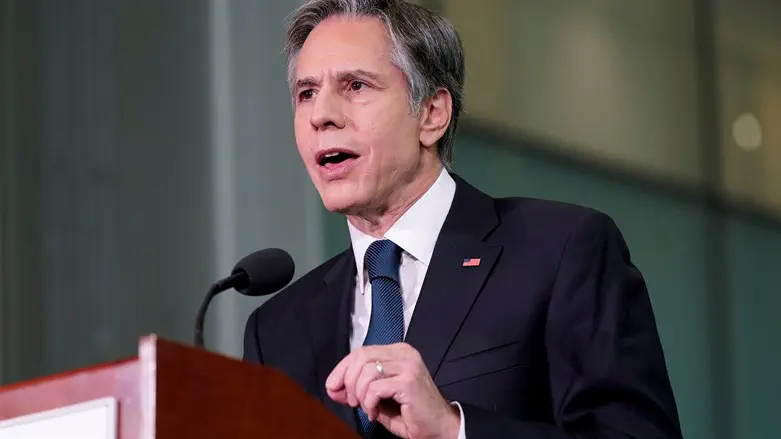 Antony Blinken
Reuters
The Gulf Cooperation Council (GCC) said on Sunday it had written to US Secretary of State Antony Blinken condemning comments from Finance Minister Bezalel Smotrich in which he denied the existence of a Palestinian people, AFP reported.
In the letter, the GCC called on Washington "to assume its responsibilities in responding to all measures and statements that target the Palestinian people".
The letter from the six-member GCC's foreign ministers also urged the United States "to play its role in reaching a just, comprehensive and lasting solution" to the Israeli-Palestinian Arab conflict.
Speaking last week at a conference in Paris, Smotrich said that "there's no such thing as a Palestinian people".
Israel's far-right Finance Minister Bezalel Smotrich, speaking earlier this month, said the Palestinians did not exist as a people, comments that sparked outrage among Arab nations.
Smotrich claimed in his remarks that he himself is Palestinian. "My grandfather, who was the 13th generation in Jerusalem, is the real Palestinian. My grandmother, who was born in Metula more than 100 years ago to a family of pioneers, is Palestinian."
He gave his speech while a map of "Greater Israel", that included the territory of modern-day Jordan and Judea and Samaria, was displayed behind him.
The US State Department later said it found Smotrich's comments "to not only be inaccurate but also deeply concerning and dangerous."
Blinken, appearing before a Senate committee, reiterated that pushback last week, saying Smotrich's comments did not reflect US values.
The comments and the map infuriated Jordan, whose Ministry of Foreign Affairs strongly condemned Smotrich, calling his speech "reckless incitement and a violation of international norms and the Jordanian Peace Treaty."
Hours later, the Jordanian Ministry of Foreign Affairs announced that it had summoned the Israeli Ambassador in Jordan for a reprimand following Smotrich's speech.
Israel's National Security Advisor Tzachi Hanegbi later said he spoke to Jordanian Foreign Minister Ayman Safadi following the uproar over Smotrich's speech.
"I assured him of the commitment the Government of Israel has to uphold the peace treaty between our two countries which has strengthened the stability and the security of our region for nearly 30 years and that we are committed to the entire territorial integrity of the Hashemite Kingdom of Jordan," said Hanegbi.
"Additionally, I relayed to FM Safadi the important contributions made by King Abdullah in ensuring the successes of both the meetings in Aqaba and Sharm El Sheikh, which included participation of Jordan, Egypt, the United States, the PA and Israel," he added.