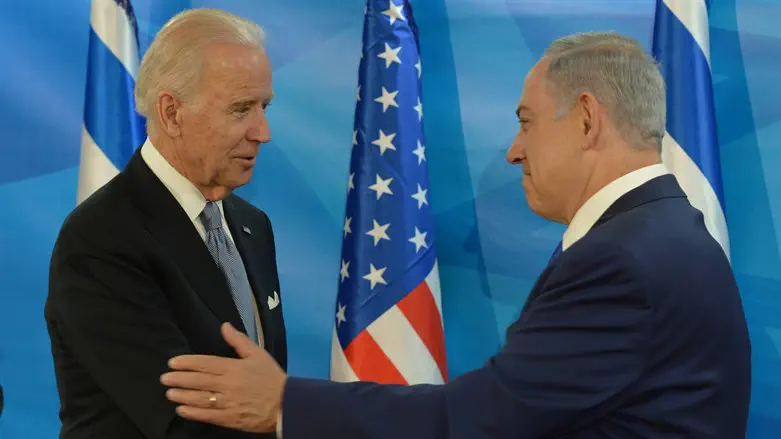 Biden and Netanyahu
Amos Ben Gershom/GPO
The United States on Sunday expressed concerns over the latest developments in Israel and once again called for a compromise over the government's proposed judicial reform.
"We are deeply concerned by today's developments out of Israel, which further underscore the urgent need for compromise. As the President recently discussed with Prime Minister Netanyahu, democratic values have always been, and must remain, a hallmark of the US-Israel relationship," said National Security Council Spokesperson Adrienne Watson in a statement.
"Democratic societies are strengthened by checks and balances, and fundamental changes to a democratic system should be pursued with the broadest possible base of popular support. We continue to strongly urge Israeli leaders to find a compromise as soon as possible," added Watson.
"We believe that is the best path forward for Israel and all of its citizens. U.S. support for Israel's security and democracy remains ironclad," she concluded.
The comments came hours after Prime Minister Benjamin Netanyahu announced that he had fired Defense Minister Yoav Gallant from his post, a day after Gallant's public address regarding the judicial reform plan.
The Biden administration has been vocal in its criticism of the government's judicial reform. President Joe Biden recently weighed in on the judicial reforms being promoted in Israel, telling Thomas Friedman of The New York Times, "The genius of American democracy and Israeli democracy is that they are both built on strong institutions, on checks and balances, on an independent judiciary."
"Building consensus for fundamental changes is really important to ensure that the people buy into them so they can be sustained," the President added.
Vice President Kamala Harris later commented on the judicial reform as well, telling Politico, "As the president has said, an independent judiciary is foundational for a democracy. And I think that there is no question that we need to make sure that that is supported in terms of what we talk about [and] in terms of our values."
US Ambassador to Israel Tom Nides, meanwhile, recently called on Israeli leaders to "pump the brakes" on the judicial reform.
On the Republican side, Senate Minority Leader Mitch McConnell (R-KY) told Axios in an interview that the Israeli government's judicial reform is an internal Israeli matter and the US should not intervene.