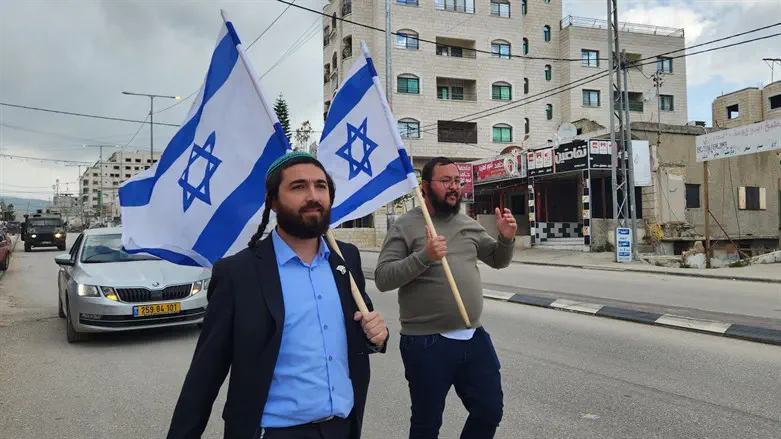 Tzvi Sukkot in Huwara
spokesperson
MK Tzvi Sukkot (Religious Zionism party) marched this morning (Sunday) through the heart of the Arab village of Huwara in Samaria while carrying an Israeli flag, The MK's march followed the third terrorist shooting in Huwara in the last month.
MK Sukkot said: "Here on this road, which is on the way to all the settlements in the area, there were three serious shooting attacks in the last month. Unfortunately, nothing significant seems to be being done to prevent the fourth attack."
"I am calling on Defense Minister Yoav Gallant, the checkpoints around the city of Shechem (Nablu)s must be restored immediately. We need to close the trade here, take care of the traffic arrangements here and engage in an uncompromising war against the enemy. It doesn't matter if it's Ramadan or not, you have to go to war with the enemy. This is your job, Yoav Gallant, we are here to strengthen the Jewish residents of the area. We will continue to drive here on our way home," he said.
In a message to the residents of the village, Sukkot said: ''The attacks will not help you, the stones will not help you, the incitement will not help you. There will be more Jews in this place, we will continue to travel here without fear.''
An Arab hose caught fire overnight in the village of Sinjil after Molotov Cocktails were allegedly thrown in the area. Security forces believe this was a revenge attack in response to the terrorist shooting of two IDF soldiers in Huwara. The attack was the third shooting in Huwara in the last month.
Last Sunday, an Israeli man was seriously wounded in a shooting attack in Huwara. Three weeks earlier, two Israeli brothers were murdered in a similar attack in Huwara,