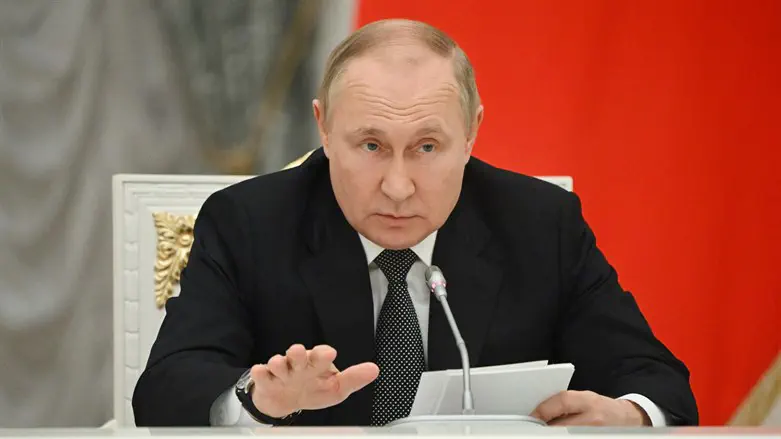 Vladimir Putin
Reuters
Russian President Vladimir Putin announced on Saturday that Russia will station tactical nuclear weapons in neighboring Belarus, marking the first time since the mid-1990s that Moscow will have based such arms outside the country, according to a Reuters report.
Putin made the announcement at a time of growing tensions with the West over the Ukraine war and as some Russian commentators speculate about possible nuclear strikes.
Putin told state television that Belarusian President Alexander Lukashenko had long raised the issue of stationing tactical nuclear weapons in his country.
"There is nothing unusual here either: firstly, the United States has been doing this for decades. They have long deployed their tactical nuclear weapons on the territory of their allied countries," he said, as quoted by Reuters.
"We agreed that we will do the same - without violating our obligations, I emphasize, without violating our international obligations on the nonproliferation of nuclear weapons," added the Russian President.
The United States reacted cautiously to Putin's declaration. A senior administration official noted Russia and Belarus had talked about such a deal over the past year, and said there were no signs Moscow planned to use its nuclear weapons.
"We have not seen any reason to adjust our own strategic nuclear posture nor any indications Russia is preparing to use a nuclear weapon. We remain committed to the collective defense of the NATO alliance," the official said.
There was no immediate reaction from Lukashenko.
When the Soviet Union collapsed in 1991, nuclear weapons were deployed in the four newly-independent states of Russia, Ukraine, Belarus and Kazakhstan.
In May 1992, the four states agreed all the weapons should be based in Russia and the transfer of warheads from Ukraine, Belarus and Kazakhstan was completed in 1996.
This is not the first time since the start of the Russian invasion of Ukraine that Putin has threatened to use nuclear weapons.
Putin issued a thinly veiled nuclear threat in a speech he gave this past September. US President Joe Biden, in his speech at the United Nations General Assembly, accused Putin of making "overt nuclear threats against Europe" in reckless disregard for nuclear nonproliferation responsibilities.
In October, Russian Defense Minister Sergei Shoigu alleged that Ukraine was preparing a "provocation" involving a dirty bomb, a device that uses explosives to scatter radioactive waste.
Biden later warned Russia against using a nuclear weapon in the war with Ukraine, saying such an escalation would be a grave error.