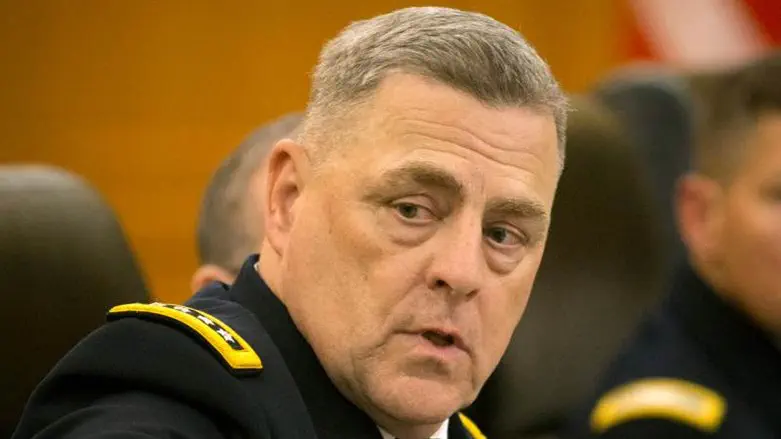 General Mark Milley
Reuters
Joint Chiefs Chairman Gen. Mark Milley on Thursday told congressional lawmakers that Iran could produce enough fissile material for a nuclear weapon within two weeks and it would then only take "several more months" for Tehran to produce an "actual nuclear weapon", Business Insider reports.
"But the United States remains committed, as a matter of policy, that Iran will not have a fielded nuclear weapon," Milley said during a House Appropriations Committee hearing which took place on Thursday.
According to Business Insider, he underscored that the US military has "developed multiple options for our national leadership to consider if or when Iran ever decides to develop an actual nuclear weapon."
Milley's comments follow remarks by US Under Secretary of Defense for Policy Colin Kahl, who said last month that Iran could make enough fissile for one nuclear bomb in "about 12 days,", down from the estimated one year it would have taken while the 2015 Iran nuclear deal was in effect.
The International Atomic Energy Agency (IAEA) recently announced that its inspectors in Iran had found uranium particles enriched to nearly bomb grade, or 90 percent, at the Fordow plant.
Tehran has denied the claims, saying it had not made any attempt to enrich uranium beyond 60 percent.
The discovery of the uranium came as talks between Iran and world powers on reviving the 2015 Iran nuclear deal remain stalled and have been since September.
At that time, Iran submitted a response to a European Union proposal to revive the deal. A senior Biden administration official said the Iranian response "is not at all encouraging." A US official later said that the efforts to revive the 2015 Iran nuclear deal have "hit a wall" because of Iran's insistence on the closure of the UN nuclear watchdog's investigations.
Despite the discovery of the highly enriched uranium, CIA Director William Burns said in late February that the US believes Iran hasn't yet decided to resume its nuclear weapons program.
"To the best of our knowledge, we don't believe that the Supreme Leader in Iran has yet made a decision to resume the weaponization program that we judged that they suspended, or stopped, at the end of 2003," Burns told CBS.
"But the other two legs of the stool, meaning enrichment programs, they've obviously advanced very far," he continued. "They've advanced very far to the point that it would only be a matter of weeks before they could enrich to 90% if they chose to cross that line, and also in terms of their missile systems, their ability to deliver a nuclear weapon once they develop it, has also been advancing as well."
(Israel National News' North American desk is keeping you updated until the start of Shabbat in New York. The time posted automatically on all Israel National News articles, however, is Israeli time.)