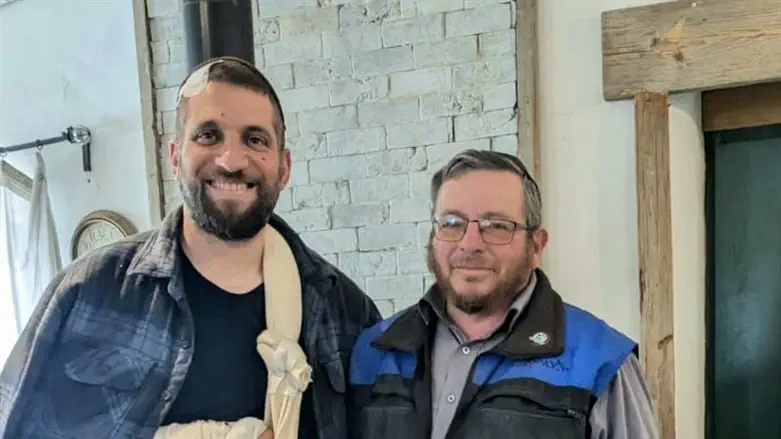 Stern and Ben-Yaakov
Israel Dog Unit Public Relations
This morning (Thursday) a meeting was held between Yekutiel Ben-Yaakov, the director of the Israel Dog Unit (a nonprofit specializing in training and deploying working dogs), and David Stern, the Israeli who was injured earlier this week in a shooting attack in Huwara.

Stern was hit in the head, shoulder, and hand. He managed to draw his personal firearm and wound the terrorist. In this way, thankfully, he managed to save himself and his wife, who was also with him in the car. Stern has already been released from hospital care.
Stern was one of the first instructors at the Israel Dog Unit, and during his tour of duty with them he immigrated to Israel and moved to Samaria. He joined the IDU upon his release from the US Marine Corps.
IDU director, Yekutiel Ben-Yaakov commented: "I wish David Stern a continued speedy recovery. All of us, both IDU volunteers and the people of Israel, are proud of David and Rachel for their composure, courage, and heroism, which were reflected in the results of the miraculous event, which could have ended completely differently, God forbid."