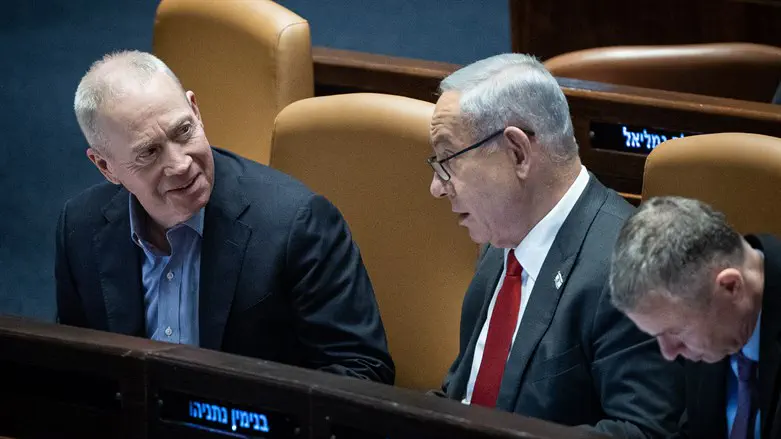 Netanyahu and Gallant
Yonatan Sindel/Flash90
Defense Minister Yoav Gallant will make a statement to the media this evening (Thursday) in which he will call for a halt to the legislation changing the composition of the judicial selection committee, which selects new justices for the Supreme Court.
Prime Minister Benjamin Netanyahu is expected to make an "important statement" at 8:40 pm tonight. Netanyahu was scheduled to fly to London this evening, but has pushed his flight back to 4 am tomorrow morning.
Gallant and Prime Minister Netanyahu have held talks in the last two weeks which have been called "difficult." Gallant presented the Prime Minister with alarming data on the effect of the judicial reform legislation on the willingness of IDF reserve officers and soldiers to volunteer and report for duty.
Yediot Aharonot reported that Gallant does not intend to vote against the judicial selection committee bill or to abstain if the bill is brought up for a final vote next week, but he still seeks to have the vote put off due to the sensitive security situation as today is the first day of the Islamic holy month of Ramadan, and believes that the bills should be voted on only during the Knesset's summer session. He hopes that during the Knesset's recess, the coalition will try to reach agreements, either with Supreme Court President Esther Hayut or with the opposition in the Knesset, or with representatives from the protest movement.
According to Gallant, passing unilateral legislation on the judicial reforms will exact a heavy price in the IDF's readiness, in Israel's relations with the US and in deterring enemies.
Gallant has reportedly threatened to resign over the crisis caused by the efforts to pass the judicial reforms.
Earlier Thursday, the wife of Prime Minister Netanyahu, Sarah Netanyahu, condemned what she called the incitement against her husband and family over the judicial reforms.
"In recent weeks, threats have been heard and published to assassinate the Prime Minister, myself and our sons, government ministers such as Yariv Levin and Itamar Ben-Gvir, and other public representatives. I strongly condemn these incitement and violent attacks, which have no place among us," Sara Netanyahu said.