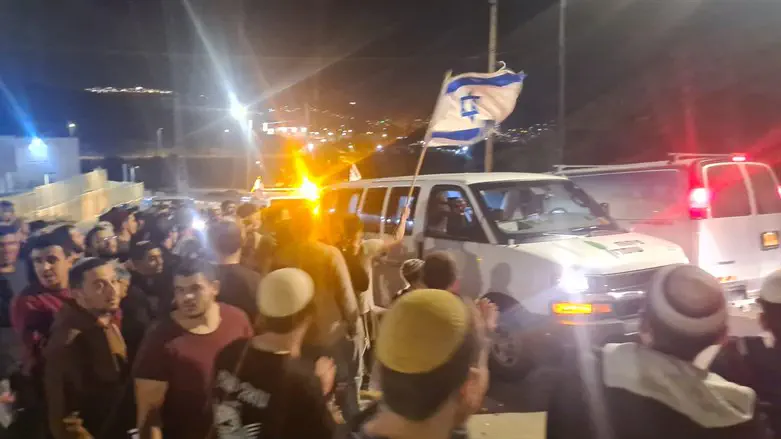 Reception for David Stern in Itamar
Nadav Goldstein/TPS
Dozens of people on Wednesday evening attended a reception in the town of Itamar in Samaria for David Stern, who was seriously wounded in a terrorist shooting attack in the Arab village of Huwara on Sunday, and was released from the hospital.
On Tuesday, Stern spoke for the first time about the attack and also thanked those who prayed for his recovery. In the first part of his speech, Stern addressed the public by acknowledging the prayers, support and love he received from the people of Israel who cared for his safety.
Stern thanked the public for the prayers, support and love he received. He then appealed to the government and the security forces to act to protect the security of the residents of Samaria, and to take the necessary steps to prevent the next attack.
"On Sunday I was driving with my wife in Huwara towards Jerusalem. I arrived at the square, and the terrorist was crossing the road, I stopped for him to cross the road," Stern said.
Stern noticed that the terrorist was hiding one of his hands in a suspicious manner. "I immediately started reaching for my gun. The terrorist turned towards me and we started shooting at each other at almost the same time. From the side window I saw that he ran away after firing ten or so bullets. I moved the car a few hundred meters and stopped. I started putting on a tourniquet and a bandage, and after a few minutes the ambulance arrived and they took me to the hospital."
"I want to say first of all thanks to G-d and to all the people of Israel for their prayers and support. I really feel everyone's love. Thank you very much," he said. "I want to say that the barriers must be restored, we cannot continue like this, we miraculously survived the attack, but what will happen to the next family?"
Hebrew video: