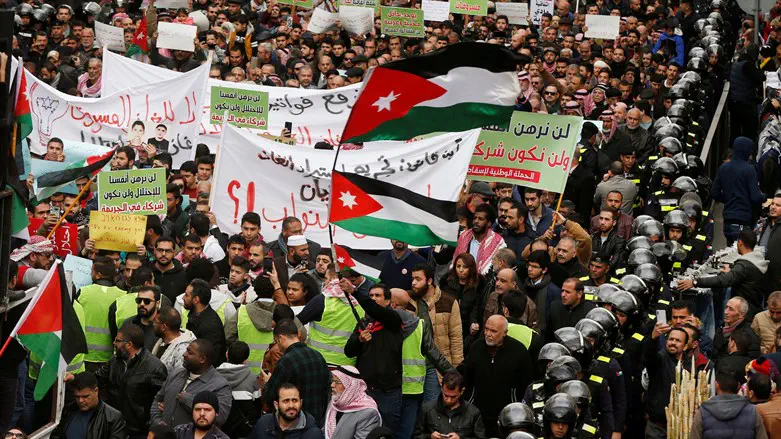 Jordanians protest against agreement to import natural gas from Israel
Reuters
A map of the entire land of Israel and Jordan emblazoned with the Jordanian flag was hung in the Jordanian parliament Wednesday in response to a speech by Israeli Finance Minister Bezalel Smotrich in which he displayed a map of 'greater Israel' which included the entirety of the State of Jordan.
The MPs who brought the map stated that it was "in response to the extremist Smotrich." The parliament demanded that the government expel Israel's ambassador.
House of Representatives Speaker Ahmed al-Safadi stated: "We demand that the government take practical and effective steps following Smotrich's speech. We must not remain silent about this move, which constitutes a violation of the peace agreement signed between Israel and Jordan in 1994."
In addition, an MP was filmed bringing an Israeli flag for the purpose of putting the flag on the ground and stepping on it.
Smotrich used the map showing Jordan as part of Israel during a speech in Paris on Sunday, during which he also stated that "the Palestinian people are an invention that is less than 100 years old."
The Jordanian government condemned Smotrich's speech on Monday, with Foreign Ministry calling the speech "reckless incitement and a violation of international norms and the Jordanian Peace Treaty."
The statement condemned "the racist and extremist inciting statements made by the extremist Israeli minister against the brotherly Palestinian people, their right to exist, and their historical rights in their independent and sovereign state on the Palestinian national soil."
The Foreign Ministry spokesperson demanded that the Israeli government condemn Smotrich's speech and vowed that the Jordanian government would "take all necessary political and legal measures to address such extremist, hateful actions and statements."