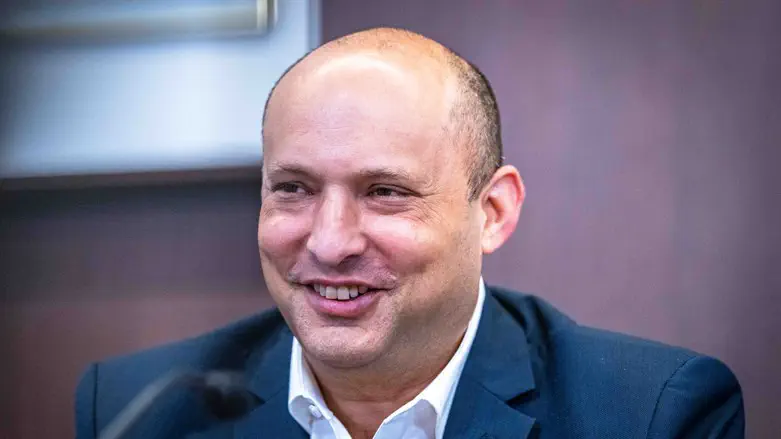 Naftali Bennett
Olivier Fitousi/Flash90
Prime Minister Benjamin Netanyahu is attempting to persuade the Meron disaster commission to summon former Prime Minister Naftali Bennett for questioning in connection with the worst civilian disaster in Israeli history, Kan 11 reported. The commission was established during Bennett's time as Prime Minister.
Netanyahu's attorneys are expected to try to claim that Bennett bears some responsibility for the disaster, which claimed 45 lives, due to his position as Religious Affairs Minister between 2013-2015.
The report stated that the investigative committee, which had already warned Netanyahu and 17 other people about six months ago, would not be able to send a warning letter to Bennett now. Netanyahu, having been warned, is entitled by law to summon witnesses and question them before the committee himself or through his lawyers.
The committee approved the Prime Minister's request, and Bennett's testimony is expected to take place next Thursday. Last month, Kan News reported that the Prime Minister sought to investigate former Attorney General Avichai Mandelblit, former State Attorney Shai Nitzan and Police Commissioner Yaakov Shabtai.
In addition to Netanyahu, former ministers Amir Ohana and Rabbi Yaakov Avitan, Police Commissioner Kobi Shabtai, outgoing northern district chief Deputy Commissioner Shimon Lavi, and police security department chief Assistant Commissioner Morris Hen also received warnings from the commission of inquiry into the disaster.
In July 2022, Netanyahu testified before the commission that he was unaware of safety issues at Meron before the disaster.
"Of course I knew there was overcrowding, but that was the case every year over the past decade," Netanyahu said. "Yes, I knew that around 400 thousand people would be there, but I did not know that this posed a problem in terms of safety."
"I did not involve myself in the preparations," he added. "There are large events being held all the time, and safety incidents also occur from time to time. But the prime minister is not usually personally involved in such matters, unless a specific question related to health and safety arises."