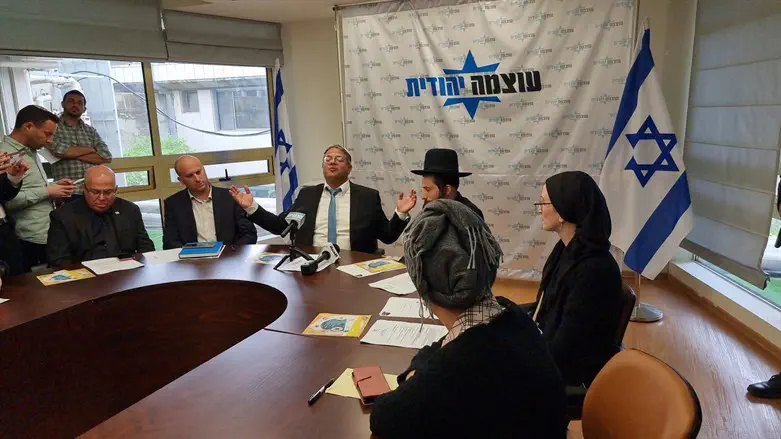 Moshe Kleinerman's parents at the Otzma Yehudit party meeting
Israel National News
A year after Moshe Kleinerman went missing, his family attended a meeting of the Otzma Yehudit party at the Knesset in Jerusalem. Dana Betzalel, who has been accompanying the family throughout this challenging period, spoke with Israel National News.
"There is currently a gag order on the case, in order to protect the privacy of the Kleinerman family," Betzalel relates, adding that there have been no recent developments. "There were some rumors which led to something, but not anything connected with Moishe. There was a certain person who published things on social media but it was all a lot of hot air. A number of people have been arrested over the past months as well, but they have all been released, without the police finding out anything relevant from them."
Betzalel adds that the police response was not initially optimal. "The problem was that it took a while to realize that he was truly missing, and then, when the family approached the police, everything was done so slowly and each stage took so much time. It took three weeks to obtain the footage from cameras in a location where Moishe was believed to have been spotted, for instance. These and other delays caused missed opportunities," Betzalel stresses, adding that this is the reason why the family chose to approach the Knesset and present data on missing people. Gitty Kleinerman, Moishe's mother, has come to regard herself as the public's representative for the families of over 600 Israelis who have gone missing since the State was established.
Asked about how the Kleinerman family is bearing up in the situation, Betzalel describes them as resilient and full of faith in G-d. Moishe's mother has started giving shiurim (Torah classes) on matters of faith. "I was with her when she gave one class and afterward, I noticed a number of girls going up to her to tell her how deeply they had been affected by her words. They even said that they'd heard many classes on emunah [faith] even from prominent rabbis, but they hadn't heard anything like what they heard from Mrs. Kleinerman."
Moishe's family is now hoping that the government will pass legislation establishing a professional government body that will be dedicated to locating missing people. No such official body exists today; the laborious work of following up clues and searching for those missing is usually undertaken by volunteer organizations such as the Israel Dog Unit (IDU), and though their dedication and efforts are laudable, the searches are not always conducted in an organized fashion. Israel Police is also involved in missing persons cases, but because they are chronically understaffed and deluged with work, especially now with ongoing left-wing protests, "the police simply do not have the necessary manpower or time for this," Betzalel explains.
Throughout the past year, there have been many who expressed the thought that if the Kleinerman family had not been haredim, the case would have been dealt with more promptly and efficiently. There does exist a certain perception that in the case of a haredi family, the missing person may have decided to flee the religious community; furthermore, haredim are far less likely to have any connections with the authorities or the media, and in such cases, media access is often crucial in order to gain the necessary publicity. "It is certainly possible that if this had not been a haredi family, we wouldn't have had to wait until 80 or even 100 days after Moishe went missing for the story to reach the media," Betzalel acknowledges.
In conclusion, Betzalel stresses that the family, though it lurches between hope and despair, is strong in their faith, encouraging one another to keep hoping and praying for Moishe's safe return.