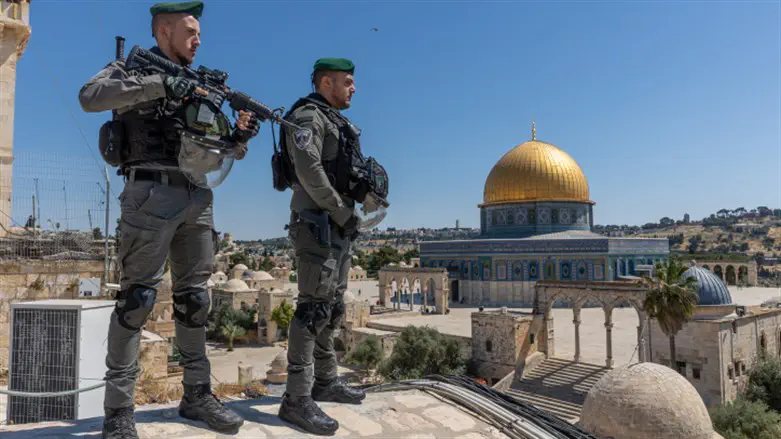 Temple Mount
Yossi Aloni/Flash90
The Coordinator of Government Activities in the Territories (COGAT), announced Monday a series of concessions for the Palestinian Arab population during the Muslim holy month of Ramadan, which begins later this week.
These measures are being undertaken despite the recent wave of terrorism in which 15 Israelis have been murdered, including a shooting attack in Huwara yesterday in which a man was seriously wounded and his wife was lightly wounded. This was the second such shooting attack in Huwara in three weeks.
As part of the measures, the entry of Palestinian Arab worshipers to the Temple Mount for Friday prayers during the month of Ramadan was approved. Women of all ages, men over the age of 55, and children up to the age of 12 will be allowed to visit the Temple Mount from Judea and Samaria without a pre-existing permit.
In addition, on the occasion of Ramadan, family visits to Israel were approved for Palestinian Arab residents of Judea and Samaria, as well as visits to relatives in Judea and Samaria by residents of foreign countries. All permits will be issued subject to security approval.
During the month of Ramadan, Palestinian Arabs living in Judea and Samaria will be able to order tickets for designated flights to go abroad through Ramon Airport. Also, during the month of Ramadan, the hours of operation at the various Judea and Samaria crossings will be extended.
Residents of the Gaza Strip will be allowed a limited quota for visits to Jerusalem on Sunday-Thursday, for women aged 50 and over and for men aged 55 and over.
COGAT commander Major General Ghassan Alian added that the easing of restrictions would be subject to security assessments and could be changed in accordance with changes in the security situation.