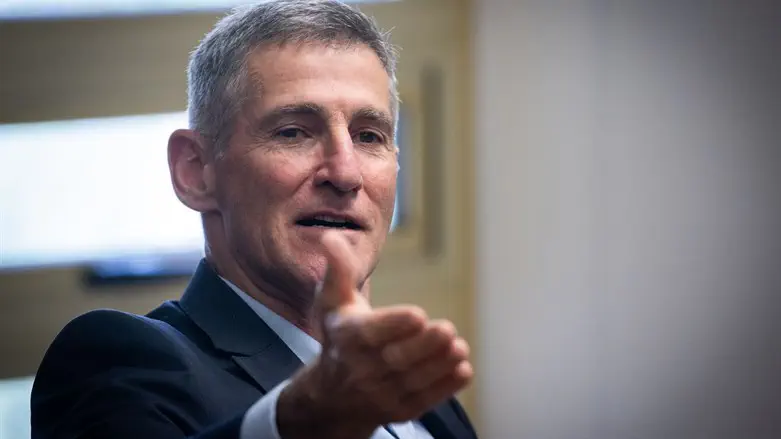 Yair Golan
Yonatan Sindel/Flash90
Yair Golan, a former Knesset member of the Meretz party, has called for "more force" to be used in the ongoing anti-government protests, in order to attain the protest organizers' goals.
Speaking on Kan Reshet Bet on Thursday morning, Golan said that he approves of President Herzog's outline for judicial reform, presented on Wednesday to the nation in an address.
"The coalition has no intention of reaching a compromise," Golan claimed. "This is a campaign of revenge on the part of [Justice Minister] Yariv Levin and [Knesset Constitution Committee chairman] Simcha Rothman, and it also reveals all the past grudges of the haredim. The Religious-Zionists are taking revenge for the Disengagement and saying: We'll show them," he added.
Later, writing on Twitter, Golan was more explicit regarding his intentions. "Rejecting the President's outline yet again reveals that the government's intention is to destroy and not to fix and improve," he wrote. "This is destruction in order to institutionalize corruption, to enhance haredi autonomy, and to achieve a complete annexation of Judea and Samaria. Anyone operating from such motivations doesn't want to fix things; he wants a coup d'etat."
"To this, there is one simple response," he continued. "If use of force doesn't work, we'll use more force. We have to strengthen this campaign. We will hold mass protests every single day of the week, hold massive strikes across all sectors, and engage in civil rebellion. The price to pay for this won't be insignificant, but it is imperative that we be determined. This is a fight for the very soul of Israel and we will never give in."
Golan also claimed that, "The Israeli government's weakness has led to the unprecedented audacity of Hezbollah [sending terrorists into Israel to plant a bomb alongside a major highway], and this coup d'etat will yet exact further heavy prices in security terms. What we need now is a strong and responsible government."
Golan defended reservists who have declared their refusal to report for duty, writing that the government has "pushed them into a corner" and that the "patriotic thing to do is to tell the government: enough."
The Meretz party failed to clear the electoral threshold in last November's elections and currently has no representation in the Knesset.