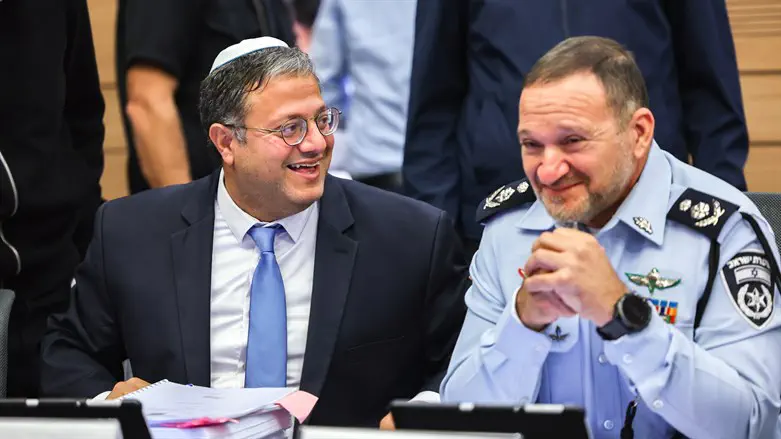 Ben Gvir and Shabtai
Yonatan Sindel/Flash 90
Israel Police Commissioner Yaakov Shabtai on Tuesday morning attacked National Security Minister Itamar Ben Gvir in a conversation with former top police commanders, saying that he "is driving the system crazy" and adding, "He is preoccupied with the media all day." The quotes were published by Kan 11 News.
According to the report, Shabtai criticized the minister, who, he claimed, is trying to be Commissioner, even though he has no idea what to do and has no experience. In the wake of this behavior, the Commissioner claimed, the commanders find it difficult to carry out their duties.
The Commissioner also commented on the disagreements between him and the minister regarding the police policy during the demonstrations against the judicial reform. On this issue, Shabtai claimed that instead of spending their entire time dealing with demonstrations and terrorism, commanders are dealing with instructions and questions about how many tickets they handed to the demonstrators. Shabtai concluded by saying that there is almost no issue over which there is no friction between him and the Minister of National Security.
The comments follow Shabtai's order from Monday forbidding the officers under his command from speaking directly with Ben Gvir.
At the weekly command staff meeting held at the national police headquarters, Shabtai made it clear that from now on every request from the office of Minister Ben Gvir to the police will be addressed directly to the Commissioner's office.
Shabtai added that he alone would mediate between the minister and the police chiefs.
On Saturday night, Shabtai said that he had made a mistake in removing Tel Aviv District Commander Amichai Eshed from his post. Ben Gvir was furious that Eshed had allowed anti-judicial reform protestors to block the Ayalon Highway, one of Israel's main arteries.
Shabtai's comments came after Attorney General Gali Baharav-Miara ordered that the removal of Eshed from his position be frozen immediately, citing "serious concerns regarding the legality and correctness of the procedure".