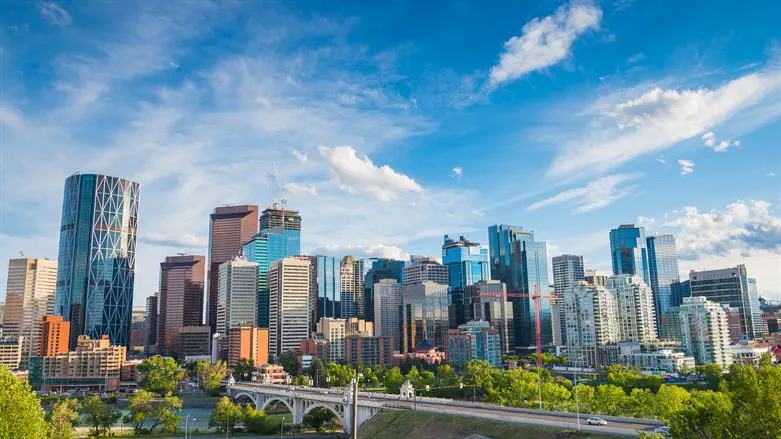 Calgary, Alberta
iStock
The Alberta legislative assembly passed a motion on Monday endorsing the International Holocaust Remembrance Alliance (IHRA) definition of antisemitism.
The measure's passage was applauded by B'nai Brith Canada, who noted that the motion supported the Alberta government's adoption of the IHRA definition in September 2022.
Richard Gotfried, MLA (Member of the Legislative Assembly) for Calgary-Fish Creek, introduced the motion. It condemned antisemitism, endorsed the IHRA definition, and called for its implementation across the province.
Gotfried told the Legislative Assembly that B'nai Brith's advocacy was essential to passing the motion.
"This reminds us that it is the responsibility of us all to combat a concerning surge into antisemitism and indeed other forms of racism," Gotfried said. "Hence, we must begin by clearly defining it. Because antisemitism knows no borders, it is important that Canadian institutions at all levels embrace the same definition to facilitate collective efforts to combat it.
Godfried added: "Significantly, over the past year Canadian governments and institutions continue to embrace the most authoritative, comprehensive, and representative definition of antisemitism that exists today."
He said that the definition was necessary "to ensure the heinous crimes against humanity, perpetrated now almost 80 years ago by the hateful actions of cold-blooded murderers and, sadly, by the inaction of silence of so many who remained silently complicit, will never be forgotten now and by future generations for eternity because of the adherence to this definition."
B'nai Brith Canada CEO Michael Mostyn, praised Gotfried and his colleagues in the legislature.
"We are grateful to the ALA for its continued support of the Jewish people," Mostyn said. "The Legislative Assembly is the democratic voice of Albertans. Its endorsement and calls to implement the IHRA definition are welcomed and greatly appreciated. Alberta has fortified its adoption of the working IHRA definition. We thank the province for its commitment to combating antisemitism and clearing the path for robust Jewish life in Alberta."
Last Thursday, B'nai Brith began a series of roundtables to promote the importance of adopting the IHRA definition for government bodies, jurisdictions and organizations in Canada.
In addition to the federal government of Canada, the IHRA definition has been adopted by the provinces of Ontario, British Columbia, Manitoba, Saskatchewan, Quebec, and New Brunswick.