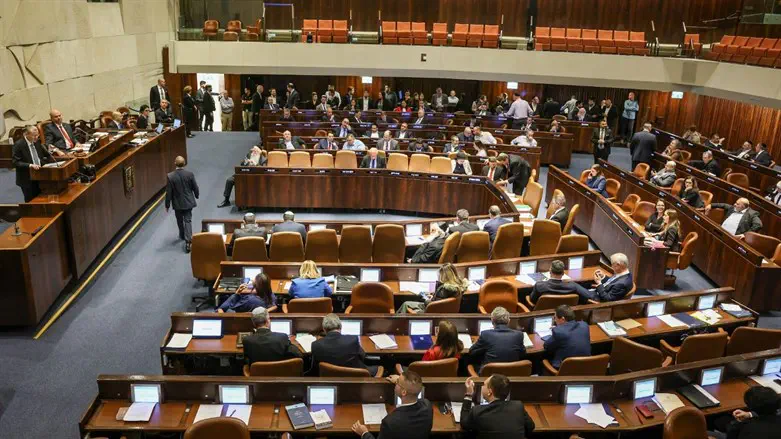 Knesset plenum
Noam Moskowitz, Knesset spokesperson
The Knesset on Monday night approved the first reading of the law which includes the Override Clause.
The proposal was approved by a majority of 61 to 52.
The bill stipulates that the Supreme Court can only repeal laws, alter them, or limit their validity if at least 12 out of the 15 judges on the bench vote in favor of doing so.
The bill also states that in the event that the Supreme Court strikes down a law, the Knesset can reenact it via the Override Clause if a majority of at least 61 members of the Knesset vote in favor of doing so, and that the Court may not strike the law down again.
Yisrael Beytenu chairman MK Avigdor Liberman blasted the approval of the law and wrote on his Twitter account, "Override Clause IN – sharing the burden OUT."
"The passing of the Override Clause is a slap in the face of the IDF soldiers and reserve officers. This is another stage of this crazy government on the way to a deep rift among the people of Israel and splitting it in two. As Gafni said – between those who will go to the army and risk their lives and those who will go to yeshiva," Liberman added.
"While the coalition is busy telling the reservists to go to hell, it promotes ruthless legislation that promotes the refusal of tens of thousands of young people to serve under the protection of the law," Liberman wrote. "We will not allow the sacred values of 'sharing of the burden' and 'the people's army' to be overrun and we will continue to fight to keep the State of Israel Jewish, Zionist and liberal."
One of the most prominent targets of the Supreme Court's judicial activism has been the Draft Law, with successive governments attempting to enact legislation anchoring draft exemptions for yeshiva students in law. Yeshiva students were first exempted from the draft at the very founding of the State, but appeals have been made throughout the years to the Courts, arguing that the situation is unfair, and legislation passed by several governments has been repeatedly struck down by the Supreme Court, even though the principle of judicial review itself is not anchored in any Israeli law.
Earlier on Monday evening, the Knesset approved the first reading of the "Incapacitation Law", which would prevent the Attorney General from declaring that a Prime Minister is unfit for office.
61 MKs supported the proposal and 51 opposed it.
The bill stipulates that a Prime Minister can only be declared unfit for office as a result of physical or mental inability to carry out his duties, and only by the Prime Minister himself or by the vote of three-quarters of the members of the Cabinet.
Should the Prime Minister object to putting the decision to the Cabinet, it would go to the Knesset, where at least 90 MKs would have to approve the move.