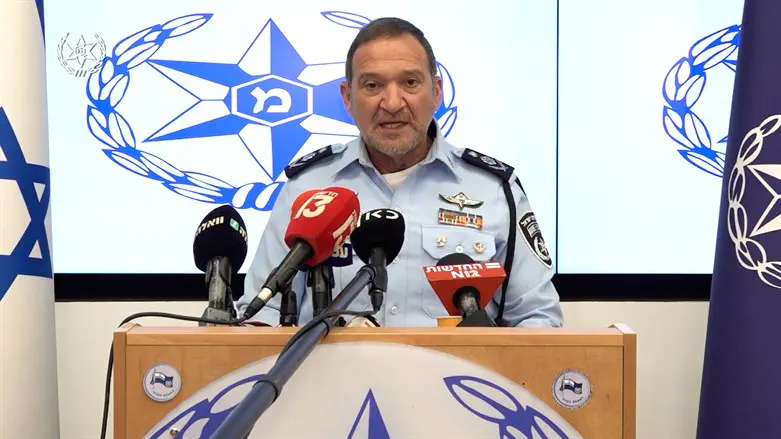 Police commissioner Kobi Shabtai
Police Spokesperson
Police Commissioner Yaakov 'Kobi' Shabtai on Monday issued orders forbidding the officers under his command from speaking directly with National Security Minister Itamar Ben-Gvir.
At the weekly command staff meeting held at the national police headquarters, Shabtai made it clear that from now on every request from the office of Minister Ben-Gvir to the police will be addressed directly to the commissioner's office.
Shabtai added that he alone would mediate between the minister and the police chiefs.
The new instruction comes after several recent several instances in which Ben-Gvir or his staff contacted police chiefs during an operational incident such as a large demonstration against the government's planned judicial reforms.
Ben-Gvir has been angered by what he sees as the police's tepid response to the blocking of major highways and violent acts by certain demonstrators.
On Saturday night, Shabtai said that he had made a mistake in removing Tel Aviv District Commander Amichai Eshed from his post during theanti-judicial reform demonstrations and transferring him to head the Police Academy. Minister Ben-Gvir was furious that Eshed had allowed anti-judicial reform protestors to block the Ayalon Highway, one of Israel's main arteries.
"The police department has one commissioner," clarified Shabtai. "The orders in the field were clear the entire time. Even if there were doubts about certain incidents, we probed them, and the lessons will be applied in the field. The orders to the commanders and officers are clear 'We don't want to see blood in the streets, not a demonstrator bleeding from a stun grenade, nor a 70-year-old woman in handcuffs. I have an obligation to the police and to the Israeli public.'"
Attorney General Gali Baharav-Miara on Friday ordered the removal on Eshed frozen due to a "suspicion regarding the move's legality."
"I respect and accept the Attorney General's decision regarding the appointment." The Commissioner emphasized: "I am committed to upholding the legal right to protest and demonstrate as long as it's done within the bounds of the law, and I will not give up due to political pressure. I never deserted a battle or a war, and I will not do so now. I am committed to doing what's best for Israel."