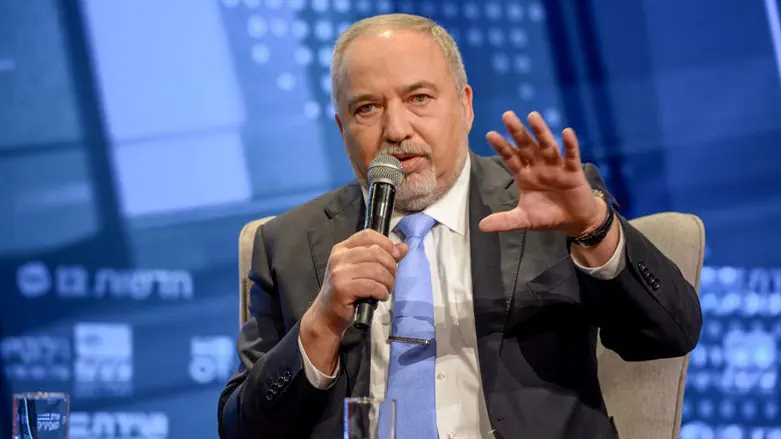 Avigdor Liberman
Kobi Richter/TPS
In January of this year, it was announced that Likud MK Danny Danon was drafting a plan to apply Israeli sovereignty over the Jordan Valley, a key campaign commitment of Prime Minister Benjamin Netanyahu prior to national elections in recent years. However, this Wednesday it will be Avigdor Liberman's Yisrael Beytenu party placing a bill to apply sovereignty over the Jordan Valley before the Knesset. Undeterred by the results of a ministerial committee vote rejecting his bill, Liberman has vowed to move ahead and is scathing in his criticism of the Likud-led coalition for failing to do so.
On Monday, Liberman spoke with Israel National News, stressing Prime Minister Netanyahu's past promises to apply sovereignty to the Jordan Valley area and the strategic importance of doing so.
"These areas enjoy a very broad national consensus, going back decades," Liberman emphasizes. "This area is of great strategic importance, especially given the recent rise in terrorist activity in the Jericho and Jordan Valley area."
At the end of last month, Elan Ganeles Hy"d was murdered as he drove along Highway 90 in the Jordan Valley. Highway 90 is one of the main routes to the capital for those traveling down from the north; in fact, it extends all the way from the Lebanese border to Eilat. Ganeles was gunned down near the Beit HaArava junction, 20 miles from the outskirts of Jerusalem, around a twenty-minute drive from the capital.
Technically, many parts of the Jordan Valley are located either in Judea or Samaria, across the "Green Line." Almost 13,000 Jewish-Israelis live in these parts, and around 50,000 Arabs. In 2019, in the run-up to national elections, Benjamin Netanyahu committed himself to establishing sovereignty over the Jordan Valley and the northern Dead Sea. "This is our essential safety belt in the east," he said at the time. "This is the eastern defensive wall."
Asked whether the diplomatic circumstances then prevailing (during the Trump presidency) could have influenced Netanyahu's words, Liberman insisted that making a similar statement and even implementing the policy today is completely feasible.
"The only thing that is complicating matters is a prime minister who keeps getting himself embroiled in one mess after another. Look at all the prior commitments and what's actually happening in Khan al-Akhmar, in Evyatar, in the E-1 area. Look at the missile fire in the south and our lack of response. What does Netanyahu do? He begs [PA chairman] Abu Mazen [Mahmoud Abbas] to keep things quiet and then meets with the Jordanians in Aqaba and promises to transfer tax revenues to the PA, taxes levied at the Allenby Bridge. When I served as Finance Minister under [Yair] Lapid, I refused to transfer even a dime of those tax revenues, despite the pressure he brought to bear on me," Liberman claims.
Asked to specify what he has in mind for the Jordan Valley area, Liberman insists he means "full sovereignty. The [Arab] population is poor there so we can absorb this. Of course, whoever wants to remain a citizen of the Palestinian Authority has the right to do so," he adds.
Liberman does not dismiss the concern that this could open the door to tens of thousands of Arabs acquiring full Israeli citizenship and freedom of movement throughout the country, but points out that, "We already have this problem with not just tens but hundreds of thousands [of Arabs] with [Israeli] blue identity cards, in the Jerusalem area. Nonetheless, we have to make a decision; it's a matter of priorities. And right now, with all the unrest, with diplomatic relations with Saudi Arabia and Jordan at the strategic security level, the Jordan Valley is extremely important. I'm not even saying anything controversial here," he notes.
Would it not be wise to prepare the ground diplomatically prior to taking such a bold step, Liberman was asked, especially given the volatile situation.
"That is possible, but what is most important is being utterly serious about this," he responds. "It should be absolutely clear that this is something we are moving forward with. We should begin with a preliminary vote in the Knesset and only then explain our position to the international community.
"We are constantly scaring ourselves about possible consequences, and we shouldn't be afraid," he adds. "We need to be consistent and determined. In the past, when I was in the opposition I told Netanyahu to submit a bill and we would support it. But this government is all talk and no action."