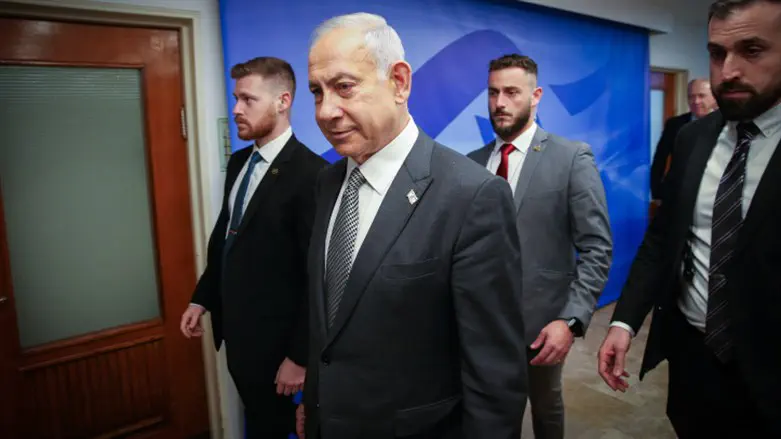 Benjamin Netanyahu, February 12th, 2023
AMIT SHABI/POOL
Prime Minister Benjamin Netanyahu praised Israeli security personnel who eliminated three terrorists near the town of Kedumim in Samaria Sunday, and vowed to demolish the home of the terrorist responsible for a shooting attack in Tel Aviv last Thursday.
"On behalf of the Government of Israel, I would like to convey our prayers for the recovery of those who were wounded in the severe shooting attack in Tel Aviv last Thursday evening," Netanyahu said during the government's weekly cabinet meeting Sunday.
"I salute the police volunteer and the soldiers who eliminated the terrorist."
"I have instructed that his home be demolished. We have arrested the terrorist's father, together with others who were involved in this severe attack, and we will deal with them to the fullest extent of the law."
"I would also like to commend the Golani Brigade Reconnaissance Unit soldiers who eliminated three terrorists in Samaria overnight."
"As we can all see, our forces are in action around the clock against our enemies. The main point is simple: Those who try to attack us will pay the price."
Turning to his recent visit to Italy, Netanyahu expressed optimism the new government under Prime Minister Giorgia Meloni can be persuaded to adopt a tougher stance against Iran's nuclear program and bolster the "pro-Israel circle" in the European Union.
"This morning I returned from an important diplomatic visit to Italy as part of our policy to formulate a stronger and – to the extent that it is possible – more unified position among western countries against the Iranian nuclear program."
"In addition to the Iranian issue, I spoke with Italian Prime Minister Meloni about strengthening the pro-Israeli circle in the EU, changing Italy's votes at the UN and in international institutions, the export of Israeli gas to Italy and on to Europe, and other significant economic projects. We will advance all of these during the Italian government's visit to Israel in the coming months. We also agreed about this during the visit."