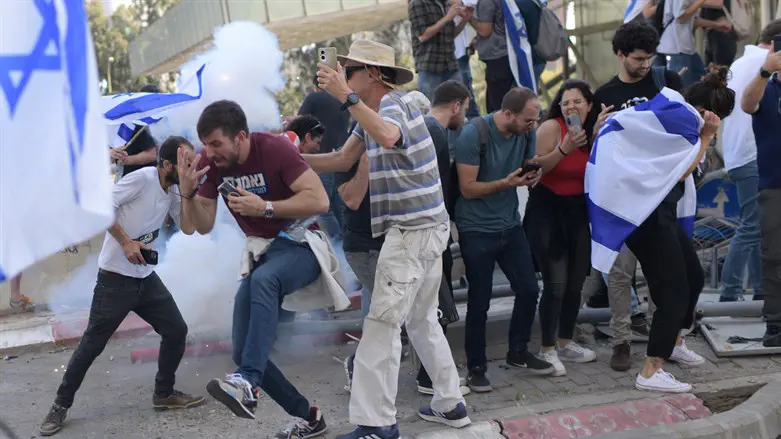 Stun grenade explodes during a demonstration
Tomer Neuberg/Flash90
Superintendent Meir Swissa, a police officer who was filmed throwing a stun grenade at anti-judicial reform protesters in Tel Aviv a week and a half ago, was summoned to the police department's internal investigations department with an additional five officers.
Last Thursday, the internal investigations department opened an investigation into an incident during which a stun grenade was thrown at demonstrators on the Ayalon Highway in Tel Aviv. Swissa is an operations directorate officer in the Lev Tel Aviv police station. The internal investigations department opened an investigation after the officer allegedly acted against operational procedures for stun grenades.
National Security Minister Itamar Ben-Gvir announced that he supported the officer and wrote in an announcement following the opening of the investigation: "My policy is to give full support to the officers, who, as opposed to those in the internal investigations department, don't sit all day in air-conditioned offices, but have to deal with anarchists. If the internal investigations department is working through political considerations, it's time to reroute."
Dan Peled, a 36-year-old Tel Aviv native, who was hit by a stun grenade, told Channel 13: "At one point, for no visible reason, police officers began to move toward us and shoot stun grenades at the protesters. I was hit by a stun grenade in my shoulder, it also left a bad burn and a bruise on my shoulder. It was really not nice, I don't understand why it happened. The police don't need to shoot at protesters in any situation. We came to protest because we love the country and are worried about what's happening. We need to calm down and avoid violence."