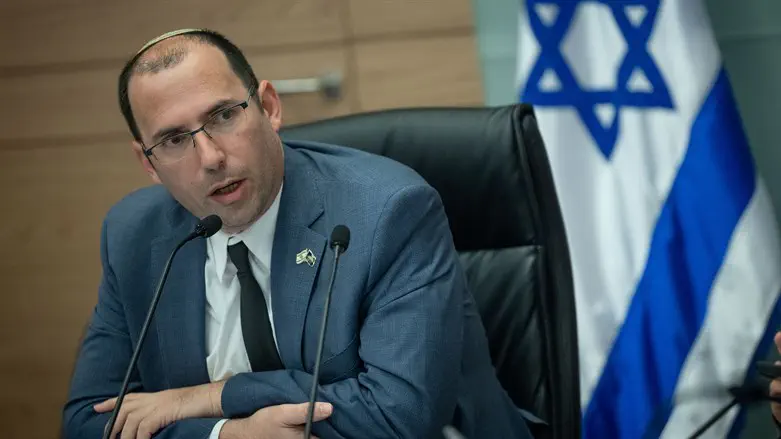 Simcha Rothman
Yonatan Sindel/Flash90
Knesset Constitution Committee chairman MK Simcha Rothman will meet today (Sunday) with President Isaac Herzog to discuss the possibility of reaching compromises with the opposition on the government's planned judicial reforms.
At a hearing in the Knesset's Constitution Committee, which resumed promoting the reforms this morning, Rothman said: "Even after the flood of lies and slanders, we will continue to reach out, we continue to want to bring something forward which has wide agreement."
"Even though I very much disagreed with what the president said, I will be attentive to his words. The president himself also said that the legislation should have acceptance in the Knesset. We will listen attentively," he added.
"I am visiting him (President Herzog) today, and we are not closing the door no matter how much they speak against us and how big the gaps are. The gaps in the negotiations would not be large if they would understand that they are not coming to burn the country," Rothman said.
The Knesset Constitution Committee is expected to convene today to continue to advance the first parts of the judicial reforms. Now that these bills have passed in their first readings in the Knesset, MK Rothman and Justice Minister Yariv Levin are reportedly more open to unilaterally amending the bills to soften their impact on the judiciary.
On Thursday night, President Herzog issued a plea for the coalition to halt the current legislation and start from scratch using his proposed compromises.
"The set of legislation currently being discussed in the committee needs to be entirely erased, and fast. It is wrong, it is destructive, it undermines the democratic foundations of the country. Therefore, it must be replaced with another, agreed-upon outline, and immediately," he said.
The President is expected to unveil his compromise outline this week.
MK Gilad Kariv (Labor party) today called on Rothman to freeze all efforts to promote and advance the current legislation so that the coalition and opposition can negotiate on the issue.
"It is not possible to form a broad agreement in two and a half weeks. You must announce that you will not complete the legislation in its second and third reading this session", said Kariv.