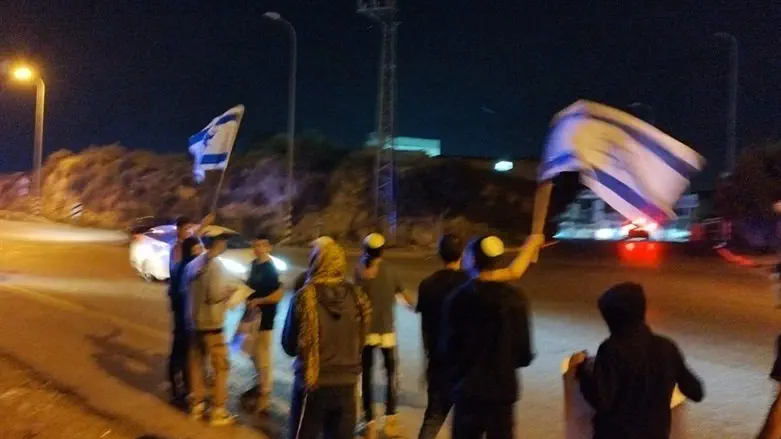 Protesters at the entrance to Ni'lin
Courtesy
Dozens of protesters demonstrated Saturday evening at the entrance to the Arab village of Ni'lin where the terrorist Mutaz Salah al-Khawaja, who carried out the shooting attack which left three injured in Tel Aviv last week, resided.
The demonstrators blocked traffic at the entrance to the village for over an hour, waved Israeli flags, and shouted protest slogans against what they called security passivity and a recent lack of reaction to terror.
The protesters stated: "There are those who would say that the terrorist was a lone wolf. He was not alone, the entire village supported him and stood behind him. The time has come to fight the enemy correctly, not using tweezers.
On Thursday, following the attack, IDF, Israel Security Agency (Shin Bet), and Israel Border Police forces operated in the village at the terrorist's home.
Palestinian Arab sources reported that during the operation, the security forces arrested the terrorist's father. In addition, it was reported that a gun battle developed during the operation and that two Palestinian Arabs were wounded by gunfire.
During the operation, IDF soldiers mapped the home of the terrorist in preparation for its expected demolition.