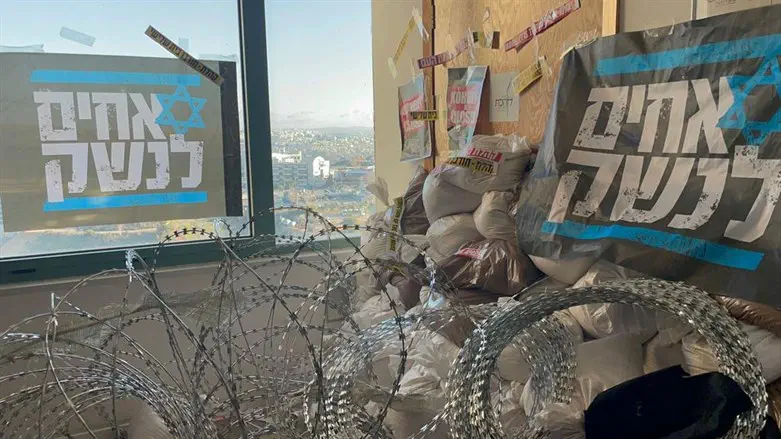 The entrance to the Kohelet Policy Forum's offices Thursday
The Brothers at Arms reservist protest
Hundreds of protest events are scheduled on Thursday, titled "Resistance Day," during which roadblocks and disruptions are planned in protest of the government's judicial reform legislation. In addition, demonstrators are expected to make their way to Ben Gurion International Airport.
On Thursday morning, IDF reservists broke into the Jerusalem offices of the conservative think-tank Kohelet Policy Forum and blocked the entrance with bags of mortar and barbed wire. Dozens of people also demonstrated outside the building.
המחאה הגיעה למשרדי פורום קהלת
מחאת המילואמניקים אחים לנשק
The activists stated: "The Kohelet Forum is a far-right, nationalist, and messianic organization. They push for a Jewish state that discriminates against women and shrinks democracy to realize their vision of a messianic dictatorship, a dark religious state with apartheid and annexation of the territories."
When the think-tank's director, Meir Rubin, arrived at the offices on Thursday morning, protesters chanted "traitor" as he made his way into the building.
My Israel organization chairperson Sara Haetzni-Cohen stated that blocking the Kohelet Forum's offices crosses a red line. "These violent barbarians came to Kohelet's offices with their faces covered so that no one would recognize them, of course. At the Kohelet Forum this morning, there was a young woman working on a research project and as they yelled at her to leave (what were you thinking of doing to her, you bunch of anarchists?) they blocked the entrance with sacks of mortar and barbed wire. If this isn't crossing a red line, I don't know what is."
Around 3,000 police officers will be deployed in 130 locations nationwide ahead of the demonstrations. Police Commissioner Yaakov Shabtai stated, "The police will show zero tolerance to riots, property damage, damage to government symbols, and the disruption of routine life," and unauthorized roadblocks will not be permitted.
Commissioner Shabtai decided that any driver who deliberately causes traffic to be delayed in the Ben Gurion Airport area and on the main highways will be fined NIS 500 and receive four points on their driver's license. Ben Gurion Airport will be a focal point of the protests due to Prime Minister Benjamin Netanyahu's departure for a diplomatic visit to Italy.
National Security Minister Itamar Ben-Gvir warned Wednesday that blocking the roads leading to the airport and Israel's main traffic arteries would cross a "red line."
"I'm in favor of demonstrations and freedom of expression, but Ben Gurion Airport and the country's main transportation arteries are out of bounds. There are people who need to get to the hospitals, and that's a matter of life and death," Ben-Gvir said.
"Today, I am going to hold a situational assessment with the police and the command staff and make it clear unequivocally that my directive is to give as much leeway for freedom of expression as possible, but not at Ben Gurion Airport. You have to remember that in the end, we are one people. I call on the opposition to behave responsibly. Shout and demonstrate, but leave the airport and public transportation arteries out of the protests," he added.
The protest organizers responded that Ben-Gvir is "behaving like an internet commenter and not like a minister. We call on our brothers, the police officers of the Israel police, to allow the democratic and vibrant demonstrations tomorrow that will help stop the coup d'état. If Ben-Gvir wants to be a TV star, let him go on reality shows and leave it to serious people to manage the security of the citizens of the state."