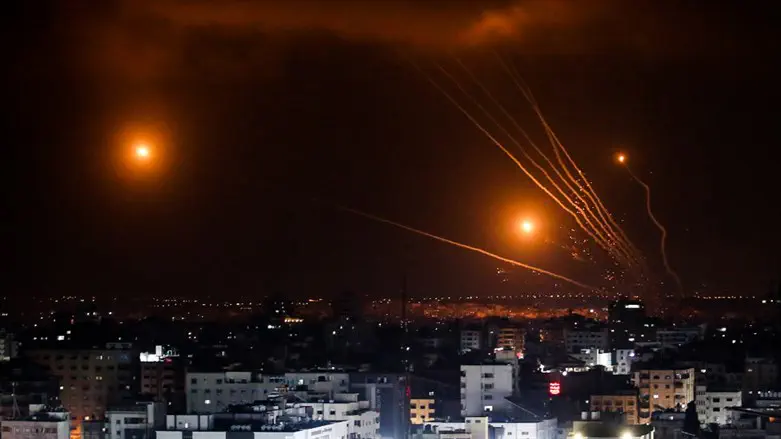 Rocket fire from Gaza
Attia Muhammed/Flash 90
Egypt and Qatar are continuing their efforts to mediate between Israel and Hamas in an attempt to prevent a deterioration into a new round of fighting, but Hamas is not ready to commit to this and is warning of an imminent military escalation.
The Lebanon-based Al-Akhbar newspaper, which is affiliated with Hezbollah, reported on Wednesday, citing sources in Hamas, that the group's leaders conveyed a message to Egypt which stated that Hamas "will not stand idly by in a situation where the enemy crosses the red lines" and warned that "the situation in Gaza will not enter a state of calm as long as the occupation continues with its crimes in the occupied West Bank and Jerusalem."
Hamas stated that it "supervises and monitors what is happening in occupied Jerusalem, the attempt by the occupation to divide the Al-Aqsa Mosque, the removal (of activists) from it, the attack on the worshipers coming from the West Bank, the Judaization plans and the demolition of the homes of the residents of Jerusalem", noting that it will not turn a blind eye to these attacks, and that the continuation of this policy "will lead to the outbreak of a new military conflict".
According to Hamas, the issue of the terrorist prisoners will be a reason for a new military conflict against the background of the toughened policy of National Security Minister Itamar Ben Gvir against the terrorist prisoners. "This issue alone (the prisoners) can blow up the Palestinian arena and bring about the entry of the Gaza Strip into the campaign," Hamas stated.
The group further stressed that "the resistance organizations are ready to enter the campaign against the occupation in the near future" and that, in this campaign, more powerful means of warfare will be used than had been used in the past.
After holding talks with National Security Adviser Tzachi Hanegbi, the Qatari envoy Muhammad al-Emadi arrived in the Gaza Strip in an attempt to convince Hamas to maintain calm. According to the report, al-Emadi conveyed messages to Hamas from Israel that offered economic concessions in exchange for calm, but Hamas refused to commit to calm if Israel crossed red lines, noting that the upcoming month of Ramadan (which begins in the third week of March) may be a sensitive period that will lead to a security escalation.