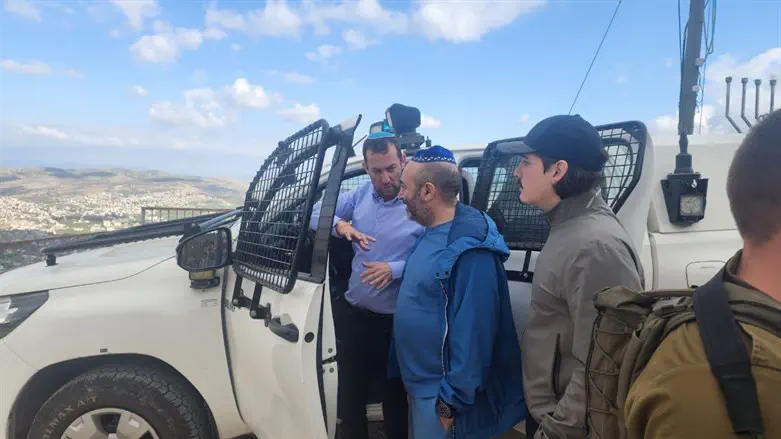 Dagan leads tour
Samaria Regional Council
Shots were fired at Samaria Regional Council chairman Yossi Dagan as he was conducting a tour in Har Bracha at a site overlooking Joseph's Tomb on Wednesday afternoon.
Dagan was leading a tour of guests from abroad when four bullets were fired at him and the tour guests. He took cover with IDF soldiers who were in the area and drew his personal weapon to protect the tour guests. The tour continued after the soldiers took control of the situation.
Dagan said following the shooting: "The settlements in Samaria will never bow their head. We are not afraid. I say to Abu Mazen (Mahmoud Abbas) the terrorist and his murderous friends in Shechem, we, the people of Israel are not afraid of you, we are stronger than you, we believe, and we will add light here, we will add buildings here, we will add strength here , we will travel without fear, we will defeat your group of barbarians."
"I turn to the government and say - the ball is in your court, you can't continue to call it a trickle, it's a wave of terrorism. There is an army of terrorists here that the Palestinian Authority is building. It is financed and controlled by Abu Mazen himself and his murderous emissaries. The State of Israel must adopt the opposite policy of the previous government. The sovereign must step up and stop this wave of terror, we will continue to travel and build and the people of Israel will win," he said.
יוסי דגן: "לא יעצרו אותנו מלהמשיך להפריח את השומרון"
מועצה אזורית שומרון
Dagan was previously shot at five months ago while participating in a demonstration against terrorism with the residents of Gav Hahar.