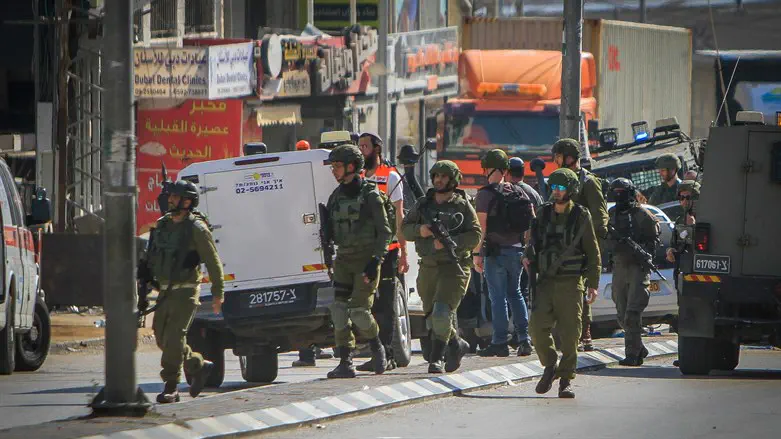 Scene of the attack
Nasser Ishtayeh/Flash90
The terrorist responsible for the murder of two Israeli brothers in late February was released from an Israeli prison just months before the attack, over the objections of intelligence officials.
Abd al-Fattah Hussein Ibrahim Gharusha, the Hamas terrorist who shot and killed 21-year-old Hallel Yaniv and 19-year-old Yagel Yaniv in a shooting attack in the Arab village of Huwara in Samaria on February 26th, was released from prison four months ago, after being arrested for planning shooting attacks against Israeli soldiers.
Gharusha, a resident of Askar, near Shechem (Nablus) in Samaria, had armed one of his sons with a Carlo-style submachine gun for the planned shooting attack.
Gharusha served just under three years before being released in late 2022, despite warnings from intel and security officials, who noted that Gharusha had also planned attacks on Israeli civilians, including in Huwara.
The Almagor Terror Victims Association on Wednesday called for an investigation into Gharusha's release.
Almagor chairman Meir Eindor said his organization is lobbying for a probe "to examine why his prison term was not extended, despite the fact that they knew he was dangerous."
"Someone was asleep at the wheel."
On Tuesday, Israeli security forces eliminated Gharusha during a gun battle in Jenin.
After the Huwara attack, Gharusha fled to Jenin, hoping he would be able to evade Israeli security forces there better than in the Shechem (Nablus) area.
תיעוד מהפעילות בג'נין
דובר צה"ל