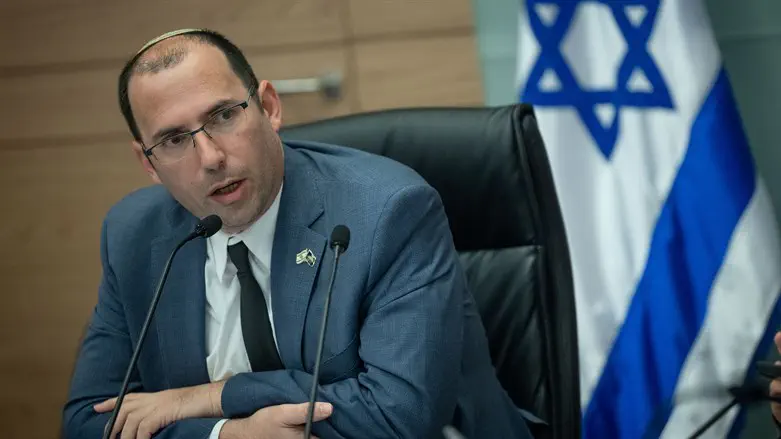 MK Simcha Rothman
Yonatan Sindel/Flash90
The Netanyahu government is preparing to dramatically speed up the process of passing its judicial reform plan, even as efforts to bring the Opposition to the negotiating table for a compromise deal continue, Kan Reshet Bet reported Wednesday morning.
The chairman of the Knesset's Constitution, Law and Justice Committee, MK Simcha Rothman, is planning to bring the second half of the government's judicial overhaul plan for its first vote in the Knesset next week, while moving forward with final passage of the first half of the reform package, Kan reported.
The Coalition is preparing to somewhat soften at least one portion of its judicial reform package, the report claimed, further reducing the number of judges required to invalidate a Knesset law.
The bill, which would recognize the Supreme Court's right to judicial review – first used by the court to strike down a Knesset law in 1997 – would also place limits on the court's ability to overturn laws.
The court would be unable to overturn Basic Laws, and would be required to reach a minimum threshold for overturning regular laws.
Under the original draft of the bill, the full court of 15 justices would have to rule on a law in order to overturn it, and the decision to overturn would have to be unanimous.
Last week, the Coalition reduced this threshold to 12 justices voting to strike down a law, with the full court of 15 still required to rule on the matter.
Under the new draft expected next week, ten of the fifteen justices would need to back overturning a given law.
The Knesset would then be able to overrule the court's decision with an absolute majority of the full Knesset, a minimum of 61 MKs out of the 120-member legislature.