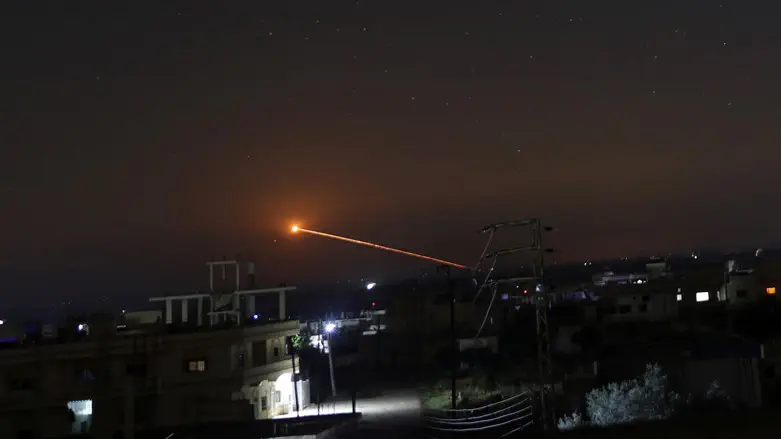 Syria air strike (archive)
Reuters
Syria and Iran on Tuesday blasted Israel and accused it of a "double crime" after an air strike attributed to Israel shut down the Aleppo airport, AFP reported.
The British-based Syrian Observatory for Human Rights, which has a network of sources in war-torn Syria, said "a Syrian officer" and two people of unknown nationality were killed in the air strike.
Syria's defense ministry said the strike occurred at 2:07 a.m. local time.
"The Israeli enemy carried out an air attack from the Mediterranean west of Latakia targeting Aleppo international airport," a ministry statement said.
Syria's foreign ministry decried the strike as a "double crime", saying it targeted "a civilian airport... and one of the key channels for the arrival of humanitarian aid" to victims of the quake which killed around 6,000 people in Syria.
Iran, a close ally of Syria, condemned the strike as "a "crime against humanity".
"While the Syrian earthquake victims in Aleppo are experiencing difficult conditions, the Zionist regime (Israel) is attacking Aleppo airport," foreign ministry spokesman Nasser Kanani said in a statement quoted by AFP.
Reports following Monday night's air strike indicated that it targeted several targets belonging to Iranian militias at the Aleppo airport.
In mid-February, Syrian media reported a missile attack on the capital Damascus, which was blamed on Israel.
Some reports said the airs trike targeted a warehouse of Iranian arms that were on their way to the Hezbollah terrorist organization in Lebanon.
Syria said many residential buildings in Damascus and the city's countryside were damaged. It later urged the United Nations to take necessary measures to deter Israel's attacks and hold it accountable.