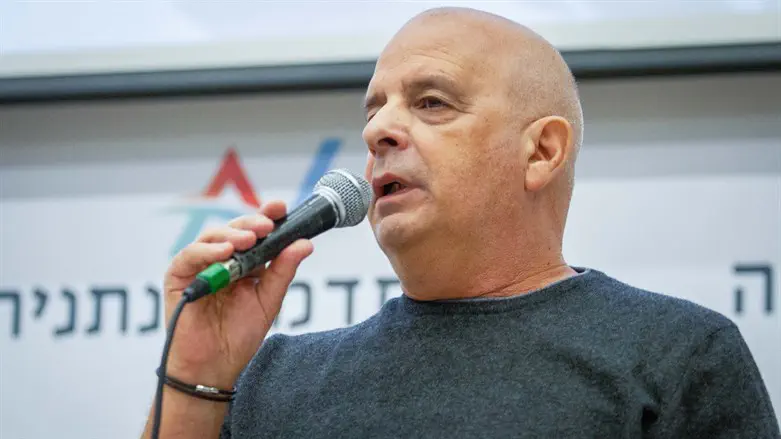 Yuval Diskin
Flash90
Former Shin Bet chief Yuval Diskin wrote to Prime Minister Benjamin Netanyahu with a proposal that the prime minister resign to create a unity government in order to end the current political crisis. Walla reported.
According to the report, Diskin warned that the current controversy surrounding the government's planned judicial reforms could bring "destruction" upon the nation, necessitating the immediate freezing of the bills on the judicial reforms and the formation of a unity government.
Diskin called on Netanyahu to resign as prime minister in exchange for the closing of his corruption trial, saying that such a move would allow the right-wing Religious Zionism and Otzma Yehudit parties to be replaced in the coalition by the center-left Yesh Atid and National Unity parties.
In his letter, Diskin wrote: "These are risks that may tear apart Israeli society and the state in a way that will be difficult to reunify, crush the IDF, severely damage the economy and lead to an unprecedented crisis of confidence that will not allow the government systems to function."
The former Shin Bet chief emphasized that the ideas expressed in the letter are his alone and were not coordinated with any parties in the opposition.
A growing number of IDF reservists have announced their refusal to report for duty in protest against the judicial reforms. Israel Hayom reported that IDF Chief of Staff Lt. Gen. Herzi Halevi has warned in private discussions that the refusals could be "the beginning of the end."
Halevi has reportedly cleared much of his schedule in order to deal with the growing number of refusals to report for duty.
The Chief of Staff is concerned that the refusals could spread and set a precedent for soldiers to refuse to report for duty for other political reasons, leading to Israel's military collapsing from within.