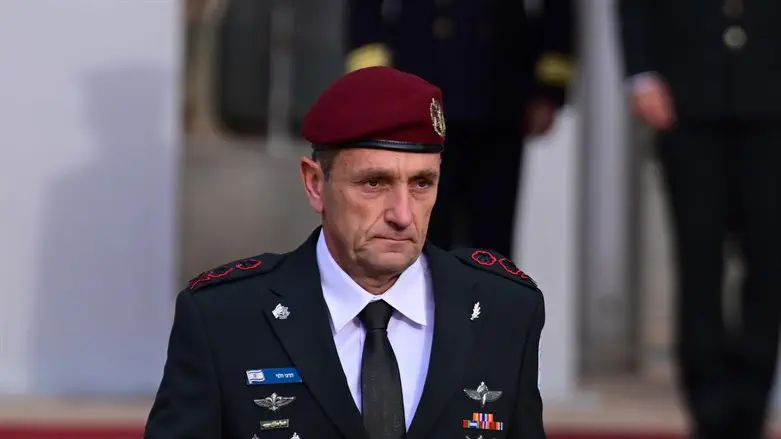 IDF Chief of Staff Hertzi Halevi
Tomer Neuberg/Flash90
As fears mount regarding an increase in the number of soldiers refusing to serve due to opposition to the government's judicial reform program, IDF Chief of Staff Lt. Gen. Herzi Halevi has warned in closed discussions that the current situation could be considered "the beginning of the end."
According to a report in Israel Hayom, Halevi has cleared a large part of his schedule in recent days to deal with the issue of refusal to serve. Halevi has already held several meetings with the IDF top brass and Air Force commanders, and on Tuesday he will be holding a meeting with Defense Minister Yoav Gallant as well as commanders of reserve units, to discuss their plans.
With no sign of a solution to the political impasse on the horizon, the Chief of Staff will be preparing for the possibility that the trend of refusals to serve will worsen, despite appeals by many leaders to keep the IDF out of the debate.
This trend is both "divisive and dangerous," according to Halevi, who added that it could also become "the beginning of the end," the end being a situation in which each sector of the public makes its own decisions regarding which missions to carry out and which to decline. The current challenge, he stressed, is to maintain unity and cohesion in every mission, otherwise the IDF faces the danger of disintegrating from within.
Sources report that Halevi believes that external forces are attempting to exploit the IDF and reservists in order to advance their own positions in the debate, without taking into account the severe damage caused as a result. Nonetheless, the Chief of Staff believes that the contribution of IDF reservists should not be undervalued, thus implicitly criticizing those who have called reservists refusing to serve "anarchists" or "terrorists." Halevi is in favor of preserving the right of reservists to participate in protests; however, their personal opinions must not be allowed to affect their IDF service in any way, he insists.
That said, Halevi is also opposed to handling the phenomenon of refusal harshly, warning that dismissing dozens of reserve pilots who have openly attacked the government's proposed reforms could easily snowball and lead to hundreds joining them. Instead, he would like to see progress made via discussion and explanation.
Above all, the Chief of Staff made it clear that he does not intend to interfere in the political processes underway, and that everyone who does speak out must understand the consequences. The main focus now must be on curbing the wave of refusals, while permitting reservists to exercise their freedom of protest and emphasizing the importance of reserve service.