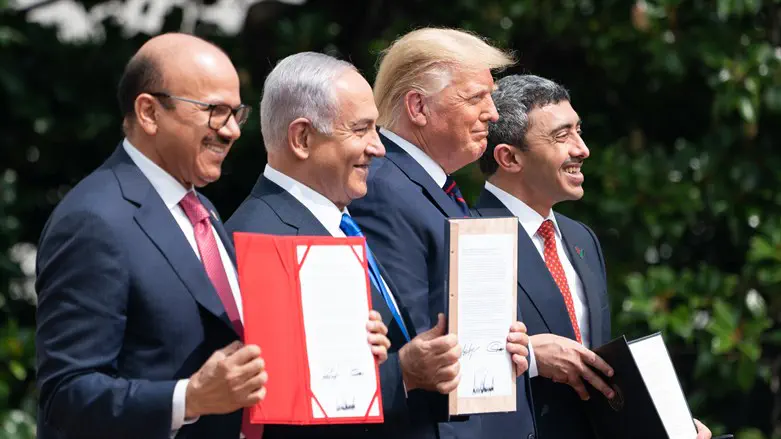 Presenting the Abraham Accords
Official White House Photo by Joyce N. Boghosian
While progress toward crafting relations between Israel and Saudi Arabia has cooled due to a breakdown in relations between the United States and Saudi leaders, behind the scenes there are many who are working toward a breakthrough in relations with four other countries with the hope of expanding the Abraham Accords in the very near future.
According to a report in Israel Hayom, Israeli Foreign Minister Eli Cohen along with Ministry officials are expending great efforts to bring about accords with Mauritania, Somalia, Niger, and Indonesia. Prime Minister Benjamin Netanyahu is reportedly also involved, as well as senior officials from the U.S. State Department including Anthony Blinken, Jake Sullivan, and Amos Hochstein.
Negotiations with Mauritania are currently at a more advanced stage than those with the other three countries, as was hinted at by Foreign Minister Cohen at a meeting last week with his German counterpart. Cohen also utilized the meeting to ask the German Foreign Minister to use her influence to aid Israel in reaching a breakthrough with both Mauritania and Niger.
Mauritania has had diplomatic relations with Israel in the past, formalized in 1999 but terminated around a decade later following Israel's Operation Cast Lead. Israel has never had diplomatic relations with Somalia, although last year reports emerged on a number of occasions indicating that the country's president was interested in cultivating ties with Israel. Israel shares an interest in cultivating such ties, due in part to Somalia's strategic location in the region of the Gulf of Aden, leading out to the Indian Ocean.
No official ties exist between Israel and Niger, although unofficial ties have existed in the past, ties that were almost entirely severed following the Yom Kippur War and the Second Intifada. Israel made very little effort to renew those ties in the ensuing years, but of late it has identified two key interests in improving relations with this African country, considered a "failed state." The first such interest lies in the fact that Niger is a producer of uranium, and if it forms ties with Israel, Israel will potentially be able to limit or halt the sale of Niger's uranium to enemy states. The second interest is in persuading Niger to refrain from voting against Israel at the United Nations and in other international forums.
Foreign Minister Cohen is also apparently endeavoring to advance ties with Indonesia, the largest Muslim-majority country in the world. Indonesia has no formal ties with Israel, but in recent years the two countries have gradually formed unofficial ties in the areas of trade, technology, and tourism.
Progress with these four countries is unlikely to get off the ground before the conclusion of the month of Ramadan on April 20th. The Muslim world will be closely monitoring the Israeli government's response to any disturbances during Ramadan, with a focus on the Temple Mount and the maintenance of the status quo at the holy site.
Prime Minister Netanyahu's recent meeting with the Jordanian King was in part motivated by a desire to ensure that progress with the four abovementioned countries is not derailed by any deterioration in relations between Jordan, Israel, and the Palestinian Authority. Tensions are still extremely high due to recent events, and officials in both the United States and Israel are doing their utmost to prevent anything untoward occurring to prevent the expansion of the Abraham Accords.