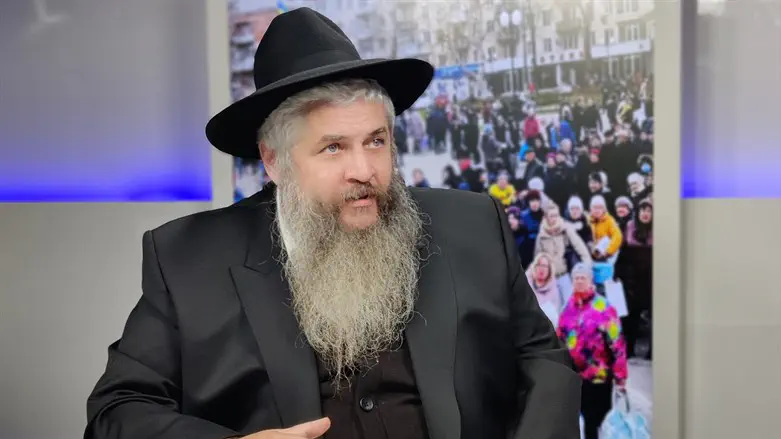 Chief Rabbi of Ukraine Moshe Azman
Israel National News
Ukrainian Chief Rabbi Moshe Reuven Azman denounced Russia on Monday, charging that it's alliance with Iran, Syria and North Korea, and the political situation under President Vladimir Putin, is eerily similar to the fascism of the 1930s.
Rabbi Azman decried Putin's constant assertion that the war in Ukraine is a campaign to "denazify" the country, which Russia claims is run by a government linked to neo-Nazis. He told Voice of America's Ukrainian language broadcast that before the invasion Ukraine was a "normal country" where everyone was "treated with respect."
According to him, Russia has internalized their role in helping defeat the Nazis during World War II and now "they decide that they can call anyone who disagrees with them 'fascists.'"
"Most people in the world understand this, and to those who do not, I say: 'Look who Russia is with today.' Iran – which openly declares that its goal is the destruction of Israel – Syria, North Korea," Rabbi Azman said. "And with Ukraine there is the whole free world. Who is the fascist here? It cannot be that the whole world are fascists, only Russia and Iran are not fascists."
He described a climate of fear in Russia under Putin's leadership.
"It is very scary that people did not learn from the experience of the 1930s, when millions of people were shot for denunciations, and some were happy, pointing fingers. Therefore, I do not see any future there," he said.
He also repeated the appeals of Ukrainian President Volodymyr Zelenskyy and other Ukrainian lawmakers for military aid from Israel.
"I understand that Israel itself is in a difficult situation, that Russia is constantly blackmailing Israel, because there are Hamas, Hezbollah, and Iran on different sides. Therefore, I cannot condemn Israel for this," he said. "But I explained that the situation has now changed – Iran, which is trying to develop nuclear weapons and threatens to destroy Israel, has started supplying Russia with drones, which they are testing there and will use against Israel. And in return, they receive technology, aircraft, and nuclear specialists from Russia. Therefore, I think Israel should support Ukraine even in its own interests."